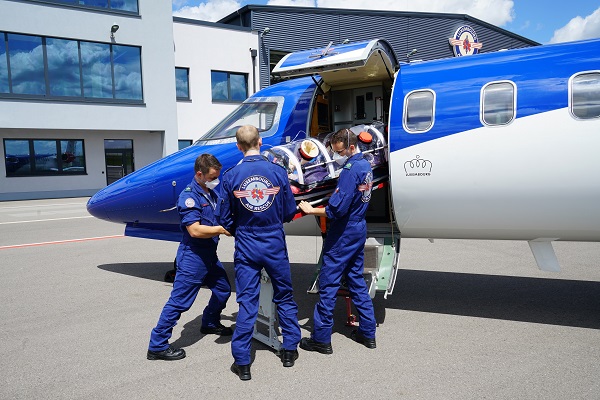 Credit: LAR
The Luxembourg Air Rescue (LAR) has presented its donation-funded "EpiShuttle" intended for helicopters, as well as two new isolation chambers for medical aircraft.
Just eight weeks after the first call for donations, LAR was able to commission its first of two urgently needed EpiShuttles. These special isolation cells allow patients with highly infectious diseases, such as COVID-19, to be transported quickly and safely to an isolation station.
For the purchase of this EpiShuttle, equipment and installation measures, as well as for obtaining aeronautical approval, LAR had to raise €250,000 in the short-term - an amount that was not included in its budget.
"We would like to thank our donors from the bottom of our hearts who enabled us to make this purchase so important for our safety possible," said René Closter, CEO and President of LAR. "Special situations, like the one experienced during the coronavirus period, require special action. Thanks to generous donations, we have already raised €160,000 to finance our first EpiShuttle with accessories and installation measures! This special equipment is crucial during the COVID-19 era, but will also be so in the future, in order to save lives while protecting patients and our team from infection".
In an EpiShuttle, the patient rests on an isolation stretcher, under a transparent plastic dome. It can be connected to an intensive care ventilation system via airtight access, treated and monitored at the same time. The ventilation pipes and supply ducts can be correctly connected to the devices outside the insulation support. Didier Dandrifosse, medical manager at LAR, added: "Another advantage of an EpiShuttle: it is not necessary to disinfect the entire cabin of the helicopter. This means that the rescue helicopter is ready for emergencies much faster. Our medical team has already been trained to use this system safely. Our experience with Ebola has been useful in this sense".
LAR has also purchased two additional isolation chambers for the transportation of highly infectious patients in the Learjet (purchased with the support of the Fondation COVID-19, under the aegis of the Fondation de Luxembourg). These new isolation chambers for stretchers are now available for patient repatriation, which is free for LAR members.
Since the start of the pandemic, LAR has transported a large number of COVID-19 patients. At the moment, it still needs about €90,000 in order to buy a second EpiShuttle. Anyone wishing to support this endeavour can send donations via bank transfer to IBAN: LU77 0019 2855 5346 4000 BIC: BCEELULL.