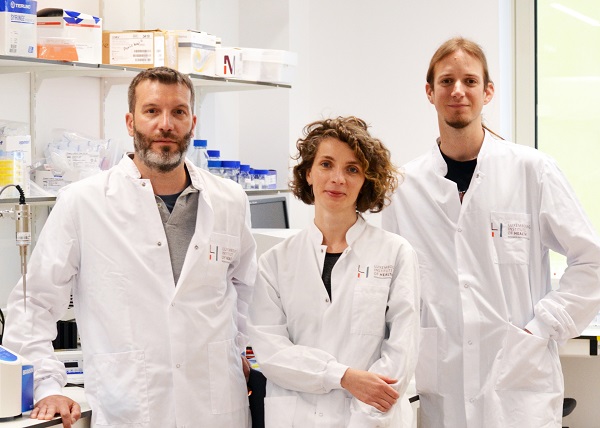 L-R: Dr Andy Chevigné; Dr Martyna Szpakowska; Max Meyrath; Credit: © LIH
Researchers from the Luxembourg Institute of Health (LIH) have announced the discovery of a new opioid receptor and develop a new molecule with painkilling effects, holding great promise for the development of alternative therapeutic strategies.
Dr Andy Chevigné, Head of Immuno-Pharmacology and Interactomics at the Department of Infection and Immunity of the LIH, together with his team, developed a molecule that enhances the natural painkilling and antidepressant properties of molecules naturally produced in the brain, known as opioid peptides. These play a key role in mediating pain relief and emotions, such as euphoria, anxiety, stress and depression. The revolutionary molecule developed by the Luxembourgish researchers, baptised LIH383, carries important implications for the development of a novel class of drugs for acute and chronic pain, depression but also for brain cancer treatment. These findings were published today, Friday 19 June 2020, in the international journal "Nature Communications".
Opioid peptides are small proteins that influence a variety of feelings and processes, including stress and pain responses. They exert their natural analgesic and antidepressant functions by interacting with four specific receptors (molecular switches) located on the surface of brain cells. Synthetic opioid prescription drugs commonly used to treat severe pain work by targeting and activating these receptors. Despite their efficacy, these painkillers are frequently associated with several side effects, such as dependence and breathing disorders. Therefore, there is an urgent need to find new drugs with different mechanisms of action and reduced complications to relieve pain, particularly given the current public health crisis, known as the "opioid crisis", linked to the growing abuse of and addiction to synthetic opioids.
In this context, the LIH research team led by Dr Chevigné developed a novel molecule, which they called LIH383, that has the overall effect of increasing the availability and use of the opioids naturally secreted by the brain. These results open up alternative options for the treatment of chronic pain, stress, anxiety and depression, but also for cancer therapy. Indeed, the scientists believe this molecule could also help slow down tumour growth and metastasis development in brain cancer, which would lead to better prognosis for patients.
"We expect LIH383 to act as a precursor for the development of a new class of drugs against pain and depression, thus offering an innovative and original therapeutic strategy to tackle the opioid crisis", underlined the two first co-authors of this study, Max Meyrath and Dr Martyna Szpakowska.
Prof Markus Ollert, Director of the LIH Department of Infection and Immunity and co-author of the study, added: "This is a glaring example of the way fundamental research can be translated into concrete applications with tangible benefits for patients, leading to improved clinical outcomes". He concluded: "The success of our work was only made possible by the generous and unwavering support of the Luxembourg National Research Fund, the Ministry of Higher Education and Research, as well as the charitable initiative 'Télévie'".