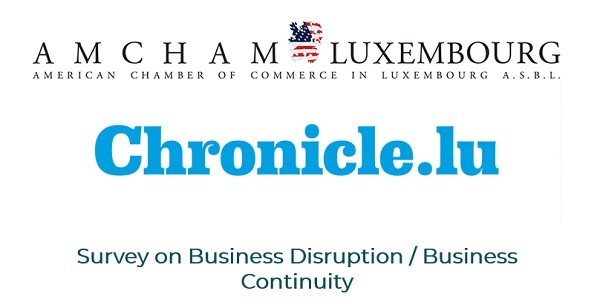 Chronicle.lu, in association with AMCHAM Luxembourg, have announced a survey which looks at all sized companies (large, medium, small, freelance) concerning both Business Disruption and Business Continuity in these crisis times of COVID-19 / Coronavirus.

The survey questionnaire comprises a total of 23 questions and should just take a few minutes to complete (most questions are multi-choice), with all companies in Luxembourg, no matter how large or small, invited to participate.
To participate in the survey, see below. The questionnaire is also available at https://survey.sogosurvey.com/r/QnC2yU
Please note that all responses are anonymous and we will just publish summary analyses and statistics, firstly online on Chronicle.lu and then printed in AMCHAM's Connexions magazine.
The survey questionnaire is available until midnight on Thursday 9 April 2020.