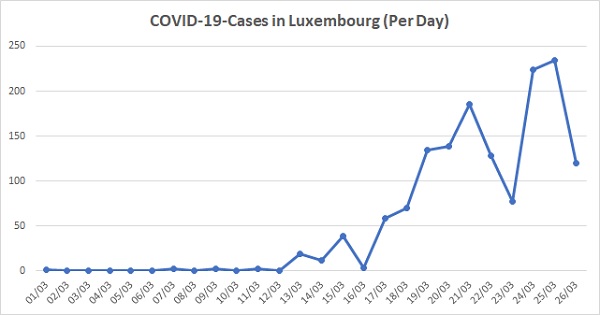 As of Thursday evening, the number of confirmed cases of COVID-19 (coronavirus) in Luxembourg had risen to 1,453, including one additional death resulting from the virus.
Around 17:30 on Thursday, Luxembourg's Ministry of Health reported an additional 120 confirmed coronavirus cases compared to Wednesday (1,333), bringing the current total number to 1,453. The number of fatalities similarly rose from eight to nine. Further details on this most recent death are not yet available.
On Thursday morning, the Health Ministry added a new hotline for people wishing to call from abroad: +352-4977-19200. As a reminder, the COVID-19 hotline for calls made within Luxembourg can be reached at 8002-8080. Information is also regularly updated at https://msan.gouvernement.lu/fr/dossiers/2020/corona-virus.html.
The above graph shows the evolution of the spread of coronavirus in the Grand Duchy on a daily basis since 1 March, with the graph below showing the total figures (cumulative) over the same period.