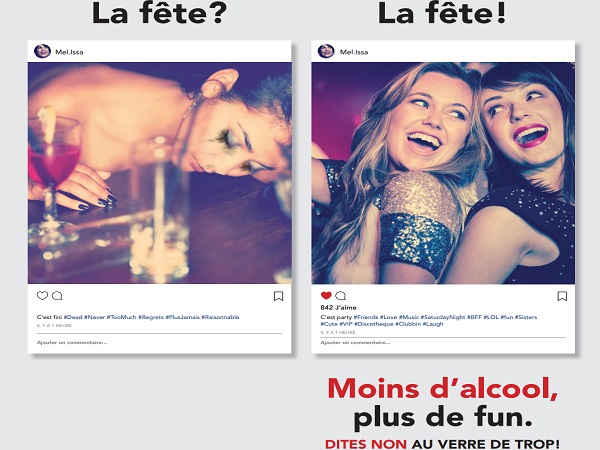 Campaign poster; Credit: MSAN
As Carnival season fast approaches, Luxembourg's Ministry of Health has relaunched its campaign against alcohol abuse: "Less alcohol, more fun. Say no to too much!" ("Moins d'alcool, plus de fun. Dites non au verre de trop!").
Following the success of its first campaign in 2018, the Health Ministry is relaunching its campaign against alcohol abuse, which primarily aims to educate young people about the moderate consumption of alcohol.
Luxembourg's newly appointed Minister of Health, Paulette Lenert, explained: "It is important for us to promote healthy and reasonable health behaviors in the face of alcohol consumption among young people by developing or strengthening a responsible attitude and consumption".
In fact, according to the European Health Interview Survey (EHIS) published by Eurostat in 2017, the average age of first alcohol consumption is 15.9 years (15.6 years for boys and 16.6 years for girls) in Luxembourg. On a more positive note, the survey found that only one in seven 15-year-olds had been drunk at least twice in their life, which is the lowest proportion in the EU.
Nevertheless, the Health Ministry has maintained that excessive alcohol consumption among adults remains a major public health issue in Luxembourg. Indeed, the percentage of adults who have reported episodes of binge drinking is among the highest in the EU; with more than one in three adults, Luxembourg comes in third place after Denmark and Romania.
Moreover, alcohol abuse remains the second cause of avoidable and premature death in Luxembourg. In this context, Paulette Lenert stated: "Above all, it is important to make citizens responsible for their consumption of alcohol. I think most people are aware of the ravages of alcohol abuse. It permanently affects health and is an avoidable risk factor for cardiovascular disease, cancer, liver disease and even mental disorders".
The campaign is the subject of awareness-raising actions for young people during the carnival period and includes radio spots, videos broadcast on the big screen, in the tram and on social networks. During large carnival events, breathalysers will be distributed free of charge to young adults and other interested parties.