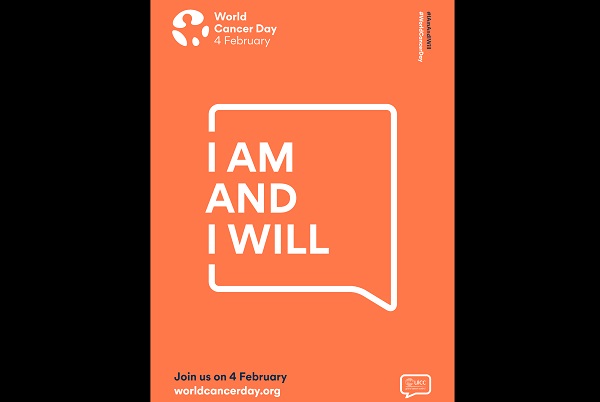 Credit: © 2020 UICC | World Cancer Day
On the occasion of World Cancer Day, held annually on 4 February, the Ministry of Health has revealed that around 1,100 people die from cancer each year in Luxembourg.
In its efforts to raise awareness about the fight against cancer, Luxembourg's Ministry of Health yesterday published figures on cancer-related deaths in the Grand Duchy. Each year, around 600 men and 500 women die from cancer, which is the leading cause of death among men (around 32% of deaths) and the second leading cause of death among women (26%).
According to the National Cancer Plan 2020-2024, lung cancer is the most common cause of death among men, with an average of 151 deaths per year over the past fifteen years, followed by colorectal cancer (60 deaths) and prostate cancer (48 deaths). Among women, breast cancer accounts for the greatest number of cancer-related deaths with an average of 82 deaths per year. This is followed by lung cancer (64 deaths) and colorectal cancer (57 deaths). In total, 50% of cancer-related deaths in Luxembourg are due to lung, colorectal, breast, prostate and pancreatic cancer, regardless of sex. 3,000 new cases of cancer appear each year in this country.
The Health Ministry has recalled that 40% of cancers could be prevented by adopting a healthier lifestyle, for instance quitting smoking, consuming alcohol in moderation and with a healthy diet and regular physical activity.
Despite advances in medicine improving the chances of survival for people with cancer, its high prevalence and many complications mean that the disease remains a real public health challenge for Luxembourg and other countries. In this context, the second National Cancer Plan (2020-24) came into force on 1 January 2020. The plan, which aims to consolidate the efforts made in the first plan (2014-18) in the fight against cancer, follows the recommendations of the European Partnership for Action against Cancer (EPAAC) as well as the strategy proposed for an action plan stipulated by the World Health Organization (WHO).
Other initiatives have included programmes related to smoking cessation, mammography (the programme detects around 120 cancers per year) and colorectal screening. Over 500 projects and activities have also been carried out over the past decade as part of the "Gesond iessen, Méi beweegen" ("eat healthily, move more") plan.