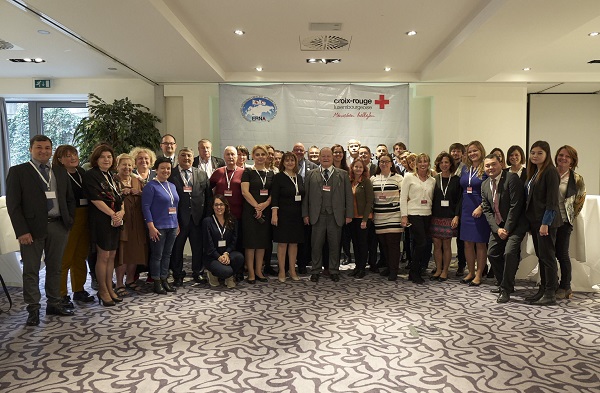 Credit: Luxembourg Red Cross
For the first time, Luxembourg is hosting the annual conference of the European Network on HIV/AIDS, TB and Hepatitis C (ERNA Network); the 20th conference is being held in Parc Hotel Alvisse from 8-11 October 2019.
More than 35 HIV and other communicable disease prevention and care experts from 43 national Red Cross and Red Crescent associations have gathered in Luxembourg to attend the General Assembly of the European Red Cross and Red Crescent Network on HIV/AIDS and tuberculosis (which form the ERNA Network).
The conference, under the patronage of Luxembourg's Minister of Health, Etienne Schneider, and Marc Angel, MP and UNAIDS ambassador for the 90-90-90 targets, aims to exchange good practices in terms of prevention interventions and the management of HIV, hepatitis, tuberculosis and drug use in the region.
In his opening speech, Michel Simonis, Managing Director of the Luxembourg Red Cross, welcomed the participants and spoke about the various challenges in the response to the epidemics of HIV, hepatitis or drug use. The opening was held in the presence of Dr Massimo Barra, ERNA Network Chair, Dr Davron Mukhamadiev, Regional Health and Care Coordinator of the International Federation of the Red Cross and Red Crescent, and Marc Angel, UNAIDS 90-90-90 Ambassador.
For his part, Marc Angel said: "It is from the exchange between the various actors that the best progress tracks emerge. I am glad that the Luxembourg Red Cross has access to this network of expertise and I am proud of the contributions it brings".
The main topics addressed in the conference were the international situation with respect to HIV, hepatitis and drug use, strategies for reaching those most at risk and the role of civil society organisations and networks.
Sandy Kubaj, Senior Manager of "HIV Berodung", the HIV support service of the Luxembourg Red Cross, emphasised the importance of networking to reach people with addictions, sex workers and the homeless, among others: "The people who are most at risk are also the ones [most difficult to reach]. For this reason we work closely with other actors in the field".
She added: "I am therefore very happy about the participation of a multitude of Luxembourg actors in this conference, be they national institutions, such as the AIDS Surveillance Committee [...], or partner organisations, such as Caritas, CHL, [...] Médecins du Monde Luxembourg or the drop-in service (for sex workers). The ERNA assembly workshops also brought together participants from Europe and Central Asia, from Ireland to Kazakhstan, and the network meets for the first time in its history in Luxembourg".