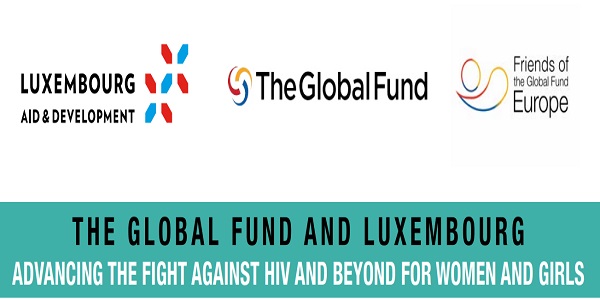 Luxembourg has become the first partner to reaffirm its support for the Global Fund to Fight AIDS, Tuberculosis and Malaria, having provided €9 million in financial aid to the fund.
This public/private partnership between Luxembourg and the Global Fund is considered a key player in the global architecture of health. Its objective is to mobilise resources for the fight against three major health scourges in sub-Saharan Africa, while promoting the independence of countries by entrusting the execution of projects to local experts. Funded projects focus on strengthening health systems, promoting the rights of young women and creating equal access to healthcare.
As the priorities and the working approach are in line with its development cooperation strategy, Luxembourg has supported the Global Fund since its creation in 2002 and has steadily increased its commitment. With a total contribution of €42 million to date, Luxembourg is one of the largest donors to the Global Fund per capita. In the context of the 2020-2022 replenishment campaign, Luxembourg was the first partner to reiterate its financial support to the Global Fund in the amount of €9 million in February 2019, an increase of 11% compared to the previous period. This commitment will be formally confirmed at the official Global Fund replenishment conference in October 2019.
Luxembourg will thus enable the Global Fund to implement projects based on four objectives defined in its strategy for the period 2017-2022, in particular maximising the impact of the fight against HIV/AIDS, tuberculosis and malaria, building sustainable and resilient health systems, promoting and protecting human rights and gender equality and mobilising additional resources.
On this occasion, Minister for Development Cooperation and Humanitarian Action Paulette Lenert welcomed Peter Sands, Executive Director of the Global Fund, in Luxembourg. Paulette Lenert and Peter Sands took advantage of their meeting to visit the SATMED telemedicine device at SES in Betzdorf. This multifunctional and innovative platform enabled NGOs to facilitate access to health services to isolated communities, including Eritrea, Benin, Niger, Sierra Leone, Bangladesh and the Philippines.
Paulette Lenert and Peter Sands similarly participated in a panel discussion with Daouda Diouf, director of the NGO ENDA Santé Sénégal and Marc Angel, at the conference "The Global Fund and Luxembourg: Advancing the fight against HIV and beyond for women and girls", held yesterday evening at Neumünster Abbey. Special Ambassador of UNAIDS, and Charles Goerens, Member of the European Parliament, discussed the increased vulnerability of women to HIV/AIDS in West and East Africa.