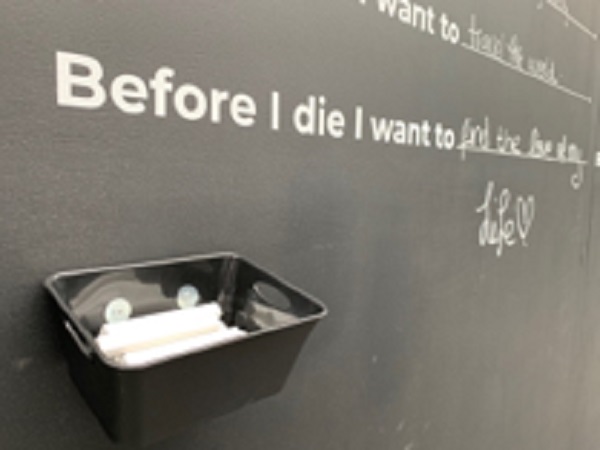 Omega 90, the Luxembourg association for the promotion of palliative care, yesterday inaugurated the artistic project "Before I die" in the Luxembourg Gare.
The aim of the international art project "Before I die" is to encourage passers-by to reflect on their own mortality and consider what is really important to them. Already launched in 78 countries across over 4,000 walls, the project is a first in Luxembourg: for 6 weeks (until March 15) Omega 90 asbl is installing a large panel inside the Luxembourg Gare (in the glass roof) on which passers-by are invited to chalk the phrase "Before I die I want to ...".
The inauguration of this panel took place on Wednesday6 February 2019 in the Luxembourg Gare in the presence of Corinne Cahen, Minister of Family, Integration and the Greater Region, Jeannot Waringo, Chairman of the CFL Board of Directors, Roger Molitor, President of Omega 90 and Christine Dahm, Director of Omega 90.
Roger Molitor commented: "Our goal is to de-taboo death and give a place for mourning in society, in life." In this sense the project is more than symbolic, added Christine Dahm: "Passersby are encouraged to complete the beginning of the sentence "Before I die...". This is very realistic: the only thing that is sure and certain in life is that each of us will have to die one day. But where each of us is different, individual - and where the project encourages creativity - it is our way of anticipating this moment and apprehending it."
The project "Before I die" has its origins in the United States. Candy Chang, an American artist with a degree in architecture, design and town planning, created the first wall in 2009 after losing a loved one. Suffering from mourning and depression, she felt the need to know the thoughts of others about death and thus painted the exterior walls of an abandoned house in her New Orleans neighbourhood with the phrase "Before I die I want to ...". Passers-by were then invited to reflect on their life and death by expressing their thoughts on the wall. The experiment that was so successful that the project "Before I die" was born. Since then, the idea has circled the world, becoming a global art project that encourages us to reflect on our relationship with death.