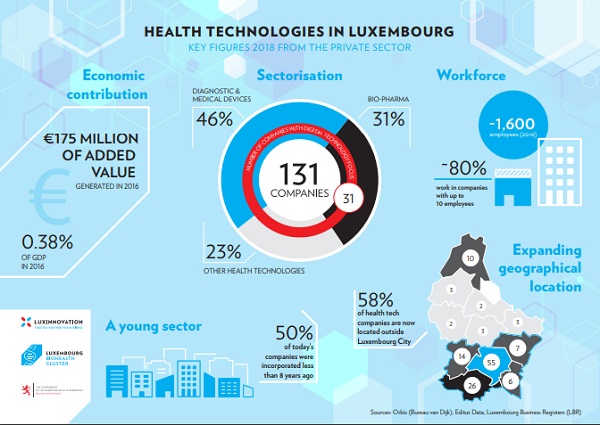 The Luxembourg health technology sector currently boasts 131 companies.
At the "Health Technologies @ Luxembourg - Shaping the Future Together" conference, held yesterday at the House of BioHealth by the Ministry of the Economy and the Luxinnovation BioHealth Cluster, a detailed overview of the national health technology sector was presented to the 120 participants.
In 2016, the health technology sector in Luxembourg generated a value added of €175 million, representing 0.38% of GDP. The sector currently comprises 131 companies and in 2016 employed nearly 1,600 people, 80% of whom were active in structures of no more than 10 employees. The mapping of the national health technology sector presented at the conference is the result of a collaboration between the Ministry of the Economy, the Observatoire de la Compétitivité, Luxinnovation's BioHealth Cluster and Market Intelligence Department.
Françoise Liners, head of the Health Technology Directorate at the Ministry of the Economy, commented: "With this mapping, the Ministry of the Economy has a reference to better define and evaluate the impact of its strategy and its policies to shape the future of the health technology sector which is considered one of the development priorities for diversifying the national economy. For the future of the sector, special emphasis is placed on the development of health technologies that will contribute to a smart and sustainable economy."
For its part, Luxinnovation manages the BioHealth Cluster, whose main role is to bring together companies from the medical technology, pharmacy, biotechnology, diagnostics and healthcare industries to support the multidimensional challenges of the industry.