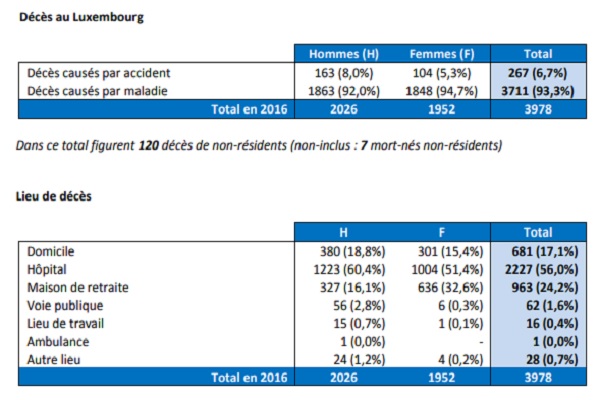 Credit: Ministry of Health
Cancer and heart disease have been found to be the biggest killers in Luxembourg, according to statistics from the Department of Health.
According to these statistics, based on the International Statistical Classification of Diseases and Related Health Problems of the World Health Organisation (ICD-10), cardiovascular diseases and cancer accounted for 60% of deaths in Luxembourg in 2016.
In 2016, 3,978 deaths were recorded in the territory of the Grand Duchy, of which 50.9% were men and 49.1% women. This equates to 11 deaths per day, 77 per week and 332 per month, and represents an increase of 1.1% compared to the previous year. The statistics also confirmed the trend of women living longer rhan men, with the latter dying on average aged 76 and the former dying at around 80 years old.
93.3% of all deaths during the year in question were due to illness, while 6.7% were the result of external causes. Furthermore, over half of deaths in the Grand Duchy occurred in hospitals, almost a quarter in retirement homes and 17% at home. Among these figures, 3% of the recorded deaths concerned non-residents.
Concerning the leading cause of death, heart disease once again came out on top, causing 31.8% of deaths, or 1,264 people (596 men and 668 women). Whilst this figure increased by 6.5% compared to 2015, the last decade has seen a general decline in the share of deaths from heart disease, from 36.9% to 31.8% of total deaths.
Cancer remains the second leading cause of death, contributing to 28.2% of all deaths (1,111 people) and affecting men (56.4%) more than women (43.6%). The three most fatal cancers in humans are lung cancer (174 deaths), colorectal cancer (60 deaths) and prostate cancer (52 deaths). In women, breast cancer (94 deaths), lung cancer (73 deaths) and colorectal cancer (44 deaths) were the most common causes of cancer-related deaths.
Respiratory diseases were found to be the third leading cause of death with 7.5% of all deaths (298 people), followed by deaths related to external causes (6.7% or 267 deaths). The latter mainly concerns men (61.1%).
Meanwhile, the suicide rate, as well as deaths stemming from unspecified events, has decreased from an average of 80 deaths over the past 5 years to 61 in 2016 (48 men and 13 women). Suicide, however, remains one of the leading causes of death for people aged 25-39.
In addition, 55 people died as a result of a fall and 38 people following a transport accident (28 men and 10 women), whilst the mortality rate related to mental and behavioral disorders has increased from 99 cases in 2011 to 233 cases in 2016. Finally, infant mortality (25 deaths) also rose in 2016 compared to the average of the last 5 years (15 deaths).