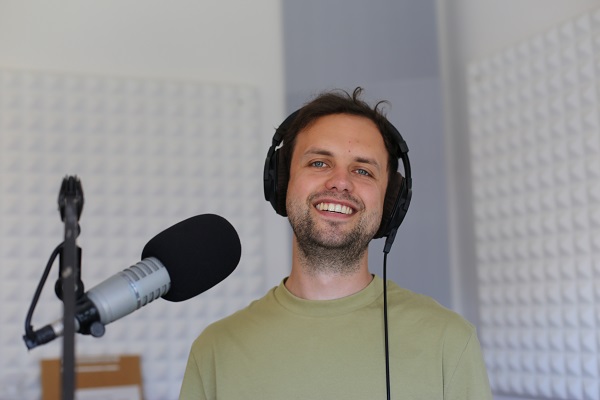 Tom Clarke, ARA City Radio Breakfast Show host; Credit: Radio ARA
Radio ARA has announced that it is launching its annual fundraising campaign aimed at keeping the local community radio station on air and active in various projects.
This year's crowdfunding campaign will kick off on Friday 30 September 2022, starting with "ARA Goes Out": Tom Clarke and the Breakfast Show team will go live from the forecourt of Buvette at Rotondes in Luxembourg-Bonnevoie. The morning will feature a series of fun activities with Tom Clarke, Simon Claridge and Lisa McLean driving the desk, as they interview many of the volunteers who host community shows on the airwaves.
In the afternoon, Graffiti will do their thing with the young ones, then the Outdoor Bistro the Intimate Studio Gigs will be replicated in an outdoor living room setting. Local artists Pascal vu Wooltze, Kinga Rose and Francisco Fernandez will perform live and everyone is invited to join in the fun. Refreshments will be on offer throughout the day.
Background
In 2021, Radio ARA signed a five-year agreement with the Luxembourg Government that ensured funding of €200,000 in the first year. According to ARA, this helped massively stabilise its situation. The agreement made however was that ARA would also continue to self-finance; this they do through sponsorships and advertising where possible. Support from listeners, however, remains needed to maintain the various projects that the community station runs. There is also a necessary move to a new building looming in a couple of years' time and any funds raised this year will go towards the fund that will finance the move and the necessary equipment needed in the new studio.
Lisa McLean, Manager of ARA International, stated: "On behalf of the whole ARA Team, we would like to say thank you for the financial support supporters have shown us over the past years. We cannot start to explain the gratitude we feel for the encouragement of our work. We also want to remind people that if they have an idea for a show or a project that we don't already have, our door is always open".
The money raised last year helped purchase various software licences and equipment such as a printer, laptops, computers, new screens and chairs, among others. The next goal and the purpose of this year's #SupportRadioARA month (October) is looking towards purchasing studio hardware and contributing to the studio relocation fund.
Donations can be made online at www.aracityradio.com.