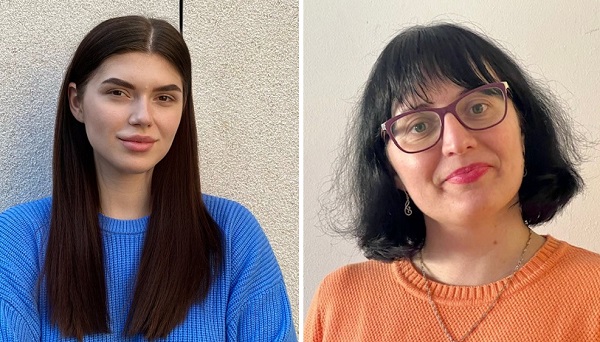 L-R: Dasha Petrykova; Iryna Skypak; Credit: Radio ARA
In the context of the Russia-Ukraine war and the arrival of over 3,000 (and counting) Ukrainian refugees in the Grand Duchy in recent weeks, Radio ARA, a Luxembourg-based independent, community radio, has begun broadcasting news daily in the Ukrainian language and set up a Ukrainian community radio show.
Chronicle.lu recently got the opportunity to speak with some of the people involved in these initiatives: Lisa McClean, Managing Director at ARA City Radio, Dasha Petrykova, the face (or rather voice) behind the radio's Ukrainian-language news, and Iryna Skypak, who runs the new fortnightly Ukrainian community show on Radio ARA.
Already last year, Radio ARA launched five new international community shows (in Farsi, Tigrinya, Albanian, Portuguese and Greek) amid the COVID-19 pandemic, in an effort to better inform minority communities about happenings in Luxembourg. These shows were based on the concept of the radio station's existing Arabic Salaam Show (launched in 2016). Consequently, as Lisa McClean explained, the decision to broadcast the news in Ukrainian was "a natural extension of what we do at Radio ARA".
Ukrainian-language news
Discussing how the idea to broadcast news in Ukrainian materialised, Lisa McClean said that she had been approached by a Ukrainian acquaintance whose sister had arrived in Luxembourg at the start of March following the Russian invasion of Ukraine and who was interested in helping other Ukrainians where possible. Shortly after, on 9 March 2022, Dasha Petrykova, an auditor and businesswoman from Ukraine, began preparing and reading local and national news in the Ukrainian language on Radio ARA. She has since begun providing international news of interest to fellow Ukrainians in Luxembourg as well.
Speaking to Chronicle.lu, Dasha Petrykova said that she was initially unsure about the value of her work in the grand scheme of things but soon realised that a lot of newcomers in Luxembourg were listening to her. In fact, it was as a direct result of Ms Petrykova's news segment that the new Ukrainian community show was born – more on that later.
Regarding the importance of such an initiative, Dasha Petrykova explained that broadcasting the local (and eventually international) news in Ukrainian had proven useful for newcomers to the country who do not speak English, French or another language frequently used in Luxembourg very well or at all. The fact that they can listen to the news in the language of their home country can also be very comforting and help them feel less isolated. Nevertheless, Ms Petrykova, like many other Ukrainians having fled the war, plans to return to her home country as soon as possible (as early as April). She noted that her hometown of Dnipro is relatively peaceful at present compared to elsewhere in Ukraine and she is looking forward to getting back to work.
The local and international news in Ukrainian airs weekdays at 09:35, 12:30 and 17:30 on Radio ARA (87.8, 102.9 and 105.2 FM).
Ukrainian community show
Not long after Radio ARA began broadcasting the news in Ukrainian, Iryna Skypak, an experienced journalist from Kyiv, reached out to Lisa McClean to volunteer her services. Having arrived in Luxembourg "unexpectedly" in early March, due to the war in Ukraine, she quickly began looking for ways in which she could continue to use her professional skills. The result was the creation of a new Ukrainian community show on Radio ARA, where Ms Skypak focuses on Ukrainian culture, poems and music, as well as educational opportunities in Luxembourg.
She emphasised the importance of offering people "something for the soul" in addition to all the financial and administrative support schemes out there. "Culture means the people and the country who created it. Culture helps to save our spirit, our souls, our humanity as well", she added. With most Ukrainian refugees being women and children, this is especially important. "Women in Ukraine are more traditional", she said, adding that many would appreciate a space dedicated to music, poetry and self-development.
The first Ukrainian show, named "Chervona kalyna" (Red viburnum in English; the name symbolises both Ukraine and its warriors), aired on Radio ARA on Monday 21 March 2022. This one-hour show will air every two weeks, on Mondays from 13:00 to 14:00.
Lisa McClean stressed once again that such initiatives are simply an "extension of who we are and what we do". She added: "It was an organic reaction". The difference this time was the speed with which the radio station got the Ukrainian community show up and running. Ms McClean also expressed her deepest sympathy with the Ukrainian people during these challenging times but added that she hoped that the solidarity we are currently witnessing in Luxembourg and elsewhere will be extended to other refugees in future.