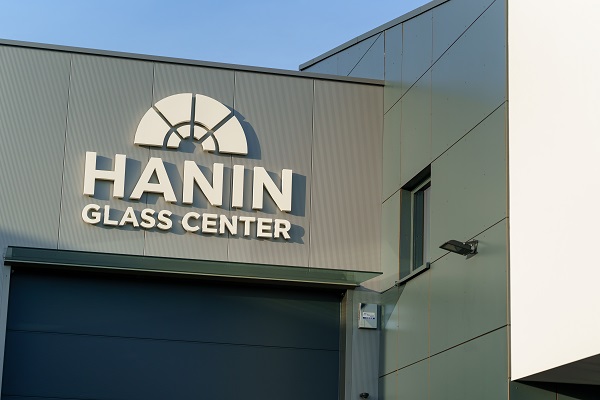 Belgian glass manufacturer Hanin recently opened its first worskhop in the Grand Duchy, located in Grass near the Luxembourg-Belgian border.
Hanin, a specialist in mirroring and glass shaping for more than 100 years in Belgian Luxembourg, presented its new workshop in the ​​Grass industrial estate during the official inauguration on Thursday 30 September 2021.
Founded in 1905 in Belgium, the family business is recognised for its know-how in glasswork. In 1992, the company was taken over by the current managers Denis and Mathilde Rutot. Together, they extended their skills to offer PVC, aluminum and steel joinery services.
In 2018, while the Grass economic activity zone was developing a few kilometres from their now-obsolete facilities in Arlon, the managers saw an opportunity to build a new establishment, which would be better suited to new techniques and closer to their predominantly Luxembourgish clientele. Nine people currently work at the new 650 m2 premises in Grass.
Belgian aerial adventurer Thomas de Dorlodot attended the inauguration of the Grass workshop last week. "We wanted to associate Thomas de Dorlodot with our inauguration. For many years we have followed his exploits. We share the same values ​​of authenticity and preservation of the world around us: Thomas by showing that there is a way to practice an extreme sport while being deeply respectful of his environment... Hanin by being an artisan solver to insulate a building while preserving the architectural style imagined by the architect...", commented Denis and Mathilde Rutot.
Explaining the origins of the inauguration slogan "Breaking the Ice", the managers specified: "It's a pun found after months of withdrawal into oneself with the health crisis, but also with our activity which is essentially based on the replacement of broken windows… and Thomas, who is starting out with his wife Sofia and their two children on a new adventure with the Search Projects sailboat on the oceans where it will most likely… break the ice".
Today, Hanin employs around 40 people spread over four sites: two in Belgium, one in Luxembourg and one in the Middle East (in Qatar).