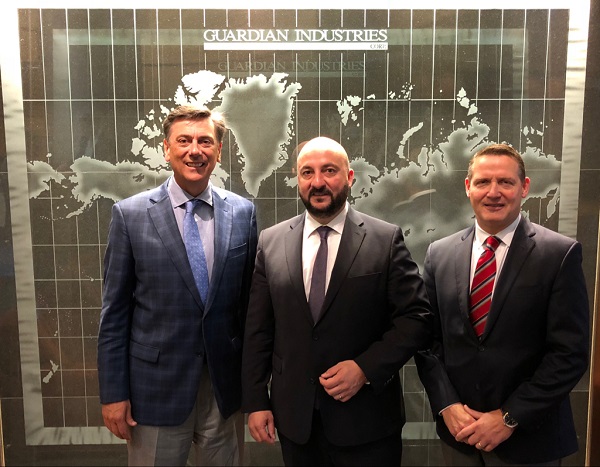 (L-R): Ronald D. Vaupel, Guardian Industries President and CEO; Minister Étienne Schneider; Kevin Baird, President and CEO Guardian Glass; Credit: MECO
On Monday 14 May 2018, Luxembourg's Deputy Prime Minister and Minister of the Economy, Étienne Schneider, met with Guardian Industries' President and CEO, Ronald D. Vaupel, and the President and CEO of Guardian Glass, Kevin Baird, at Guardian World Headquarters in Auburn Hills, Michigan, USA.
The Minister and Guardian's most senior management discussed future investment programmes to foster Guardian's footprint in Luxembourg. Minister Schneider seized the opportunity to underline Luxembourg's convincing economic and financial fundamentals, and the growth potential induced by the recent tax reform.
Guardian welcomed Luxembourg's proactive approach on the digitisation of industry in alignment with the Rifkin process. To engage in this innovative and potentially disruptive manufacturing process, investments in equipment and advanced technology as well as in research and development are under consideration.
In light of the above developments, the Deputy Prime Minister and Guardian concluded to continue their dialogue to pave the way for Guardian's continued presence in Luxembourg.​