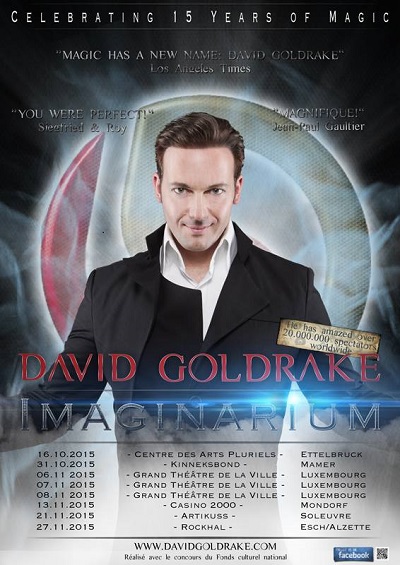 On Friday 16 October 2015, magician and illusionist David Goldrake will by launching his Imaginarium tour at CAPE Ettelbruck before heading to Las Vegas to captivate the American public.
David Goldrake represents a new generation of illusionists capable of making the public lose all sense of reality, creating a surreal scene caught somewhere between real life and a dream world of fantasies. The classics of magical history will rub shoulders with modern experiences during this performance, including mentalism, escapology, music and choreography blending with modern 3D mapping technology, offering an interactive show eliciting emotions and strong images.
With exclusive illusions that he has developed with the best creators in the field of magic, David Goldrake will embark on a journey defying the laws of time and physics in front of spectators' very eyes.
The show will open at 20:00 on Friday 16 October 2015 at CAPE 1, place Marie Adélaïde in Ettelbruck. Tickets cost €31 at standard rate, €15.50 for under 26s and can be reserved at 2681-2681 or at www.cape.lu