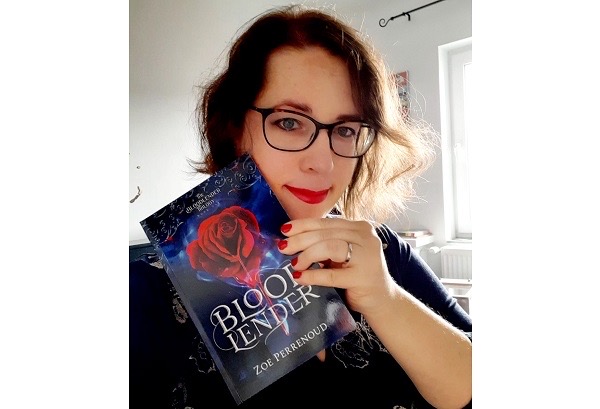 Zoe Perrenoud;
Luxembourg-based writer Zoe Perrenoud recently published her first novel "Bloodlender", which she will be presenting at the 2022 LuxCon / EuroCon at opderschmelz cultural centre in Dudelange, from 7 to 10 April.
Zoe Perrenoud was born in Lausanne, Switzerland. She grew up listening to the stories her parents read and told her and wished that she could visit those worlds. She began writing her own stories, and her love for writing stayed. She went on to study English Literature and Creative Writing. Now, she lives in Luxembourg with her husband, two children, and two cats, where she runs her own copywriting and translating business from home.
Chronicle.lu recently got the opportunity to catch up with Ms Perrenoud and ask her about her book.
Chronicle.lu: How does it feel to have your debut novel published?
Zoe Perrenoud: It feels amazing. I've wanted to be a writer for as long as I can remember, and finally getting to hold my first book in my hands was one of the best moments of my life.
Chronicle.lu: When you write a story / book, where do you get inspiration for your characters?
Zoe Perrenoud: My characters like to tell me how they feel rather than the other way around. I will draw inspiration from personal experiences and from observing others, but my characters are usually a mash-up of lots of different elements.
Chronicle.lu: Could you tell us a bit about the plot of "Bloodlender", for those who have not read it?
Zoe Perrenoud: "Bloodlender" tells the story of untrained blood magician Sophie Constantin, who is still mourning her father years after his unsolved murder. When her magic awakens and she accidentally puts her mother in a coma, she is sent to live with the Delville family in their ancestral home of Les Rosiers. There, she meets their son Gauthier, who is dying from a mysterious illness. As she struggles to control her powers, Sophie learns that she is Gauthier's last hope. But when new evidence about her father's death threatens to shatter their growing bond, she faces the ultimate dilemma: get revenge or save the boy she's falling for... before her blood kills them both.
Chronicle.lu: What was your inspiration for "Bloodlender"?
Zoe Perrenoud: I visited an exhibition on gardens at the Centre Pompidou in Metz, in 2017. There was a documentary about the garden of Bomarzo, in Italy, which was created by a man who was mourning his late wife. He filled it with all sorts of fantastical (and sometimes scary) statues, to represent the absurdity of life. That gave me the idea for the history behind the garden that features prominently in Bloodlender. I then came up with the plot, which is loosely inspired by one of my favourite childhood novels, The Secret Garden by Frances Hodgson Burnett.
Chronicle.lu: You will be appearing at LuxCon, will you be selling your novel there?
Zoe Perrenoud: Yes, I'll be selling and signing copies of Bloodlender on all three days. I will also read an excerpt from it alongside some other English- and French-speaking authors on Saturday 9 April at 16:00.
The ebook version of "Bloodlender" is currently available for purchase on Amazon, Kobo, Barnes & Noble, Apple Books and FNAC. The paperback version can be purchased from Amazon or from Zoe Perrenoud directly, by contacting the author through her website: www.zoeperrenoud.com.