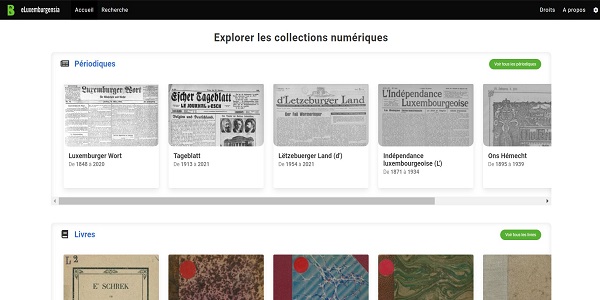 Credit: BnL
The National Library of Luxembourg (Bibliothèque nationale du Luxembourg - BnL) has announced the modernisation of its eluxemburgensia.lu portal.
The eLuxemburgensia project allows users to discover all of the Luxembourg newspaper and magazine collections digitalised by the BnL as part of its mass digitalisation programme. The redesign of the site allows the BnL to update and adapt its research tools to the changing needs of users.
The new eluxemburgensia.lu is designed to make it easier to explore digital collections; the calendar has been improved and the search engine has been made more efficient. Users can perform a simple keyword search or a more specific advanced search.
In addition, new search facets and additional filters have been added. Searching for articles or historical documents is now faster and easier. The descriptions of newspapers and magazines have been completed or updated.
Regarding digitalised content, the BnL has improved the quality of transcriptions through optical character recognition (OCR), using tools from the field of artificial intelligence (AI). The BnL has used the automatic recognition of original text for several years. This allows users to carry out a keyword search in the full text of the scanned documents and to receive a list of results adapted to their request.
The new eluxemburgensia.lu site is currently accessible in French and English. The German version will be available shortly.