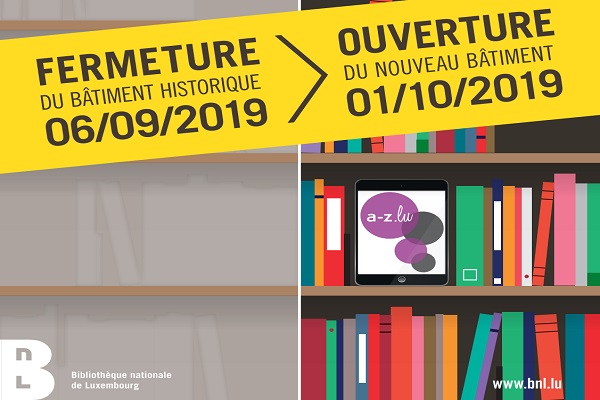 Credit: BnL
The new site of the National Library of Luxembourg (BnL) is set to open its doors to the public on Tuesday 1 October 2019, following its official inauguration the day before.
The BnL has informed the public that its historic building will close its doors on the evening of Friday 6 September 2019. Following a preparation phase to ensure the smooth operation of the new infrastructure, the BnL will welcome the public in its new premises in Luxembourg-Kirchberg from Tuesday 1 October 2019.
It should be noted that the loan counter and reception at the historic site will remain open until its closure on 6 September inclusive. These will also be open continuously from 10:00 to 19:00 between Tuesday 3 and Friday 6 September. During this time, the ordered works, reserved via the a-z.lu platform, will be moved from the storage areas in Kirchberg to the centre
Orders placed before midnight on Sunday 1 September can be withdrawn from Tuesday 3 September (during opening hours). Those made before midnight on Monday 2 September can be withdrawn on Wednesday 4 September, orders placed before midnight on Tuesday 3 September can be withdrawn on Thursday 5 September and orders made before noon on Thursday 5 September will be made available on Friday 6 September. Book orders made via the international loan service can be made up to and including 15 August, while journal article orders can be made at any time and without a deadline.
During the moving phase, the maximum number of reservations was five per user. This limit has increased to ten reservations per user from 7 August 2019.
Users with outstanding loans will not be able to return their documents between 6 September and 1 October 2019. All outstanding loans will be automatically extended until 19 October 2019. Consequently, users will not have to immediately return their books when the new building opens.
The new building will open its doors to the public on Tuesday 1 October 2019 at 14:00. Normal opening times will then be Tuesday to Friday 10:00 to 20:00 and Saturday 10:00 to 18:00. As a reminder, users can access thousands of digital resources 24 hours a day and remotely via the a-z.lu portal.