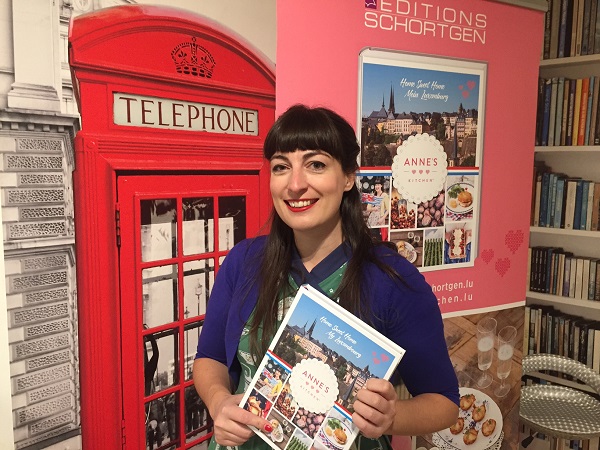 On Wednesday evening, Anne Faber launched her third cookery book in her series at Chapter1's The Book Loft in Howald, entitled "Home Sweet Home, My Luxembourg".
In front of a 50-strong audience she talked about her now book which is available in both German and English, the latter as she feels that the international community here will be very interested in her recipes which focus on traditional Luxembourgish foods, all with her special twist for which she has become famous.
After the formalities were over, Anne explained that the reception included food prepared according to some of the recipes in her book.
Anne Faber is a TV chef and food journalist based in Luxembourg. She lived in London for 12 years, which has heavily influenced her style of cooking. Anne has worked as a TV producer for APTN, ZDF and RTL, and ate her way around London as a restaurant critic for Time Out London. In 2010, she started her food blog Anne's Kitchen, which was awarded a Digital Food Award by Food & Wine magazine in the US in 2013.

"I love anything British!!!" said Anne Faber. Her first cookbook (2013), focusing on British cuisine, is a homage to her chosen homeland, the UK. This book is a celebration of all things British.

"My second cookbook (2014) takes inspiration from three captivating cities – Barcelona, Istanbul and Berlin. This book will take you on a colorful journey filled with culinary adventures!" said Anne Faber.
In her third cookbook, food journalist Anne Faber explores the cuisine of her homeland, giving traditional Luxembourg dishes an original twist. From Judd mat Gaardebounen Cannelloni and Mettwurscht Muffins to Kachkéis Fondue and Bamkuch squares, Anne's recipes bestow beloved classics with a unique touch. This is Luxembourg cuisine like you've never tasted before!