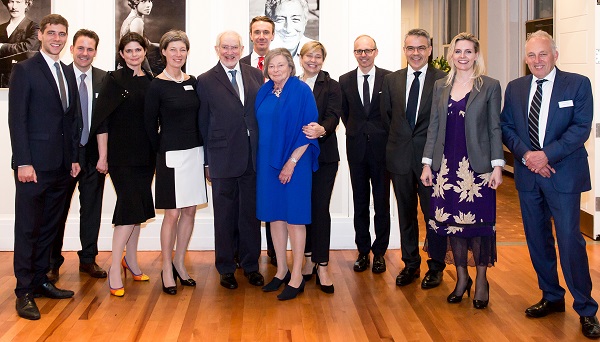 (L-R): Nicolas Fermaud, Yves Elvinger, Toinon Hoss, Martine Elvinger, Jean Hoss, Pit Reckinger, Simone Hoss, Manou Hoss, Luc Frieden, Gast Juncker, Frédérique Lifrange, Jacques Elvinger;
Elvinger Hoss has announc3ed the opening of Elvinger New York that will allow them to further follow their clients in their expansion into the U.S. and European markets.
The office is up-and-running with experienced lawyers and supported by a dedicated team in Luxembourg readily available and familiar with the U.S. environment.
Manou Hoss, Managing Partner of Elvinger Hoss, commented "With Elvinger New York we are now represented globally and we can virtually cover a 24-hour time cycle. This is a natural step for our firm and echoes our steady growth over the last 50+ years."
With a team in residence, clients and business partners can receive relevant, timely advice on Luxembourg law during local U.S. business hours. It will allow the firm to further strengthen its relationship with the U.S. business community and challenge themselves to deliver greater levels of efficiency and excellence in their service.
Nicolas Fermaud, Head of Elvinger New York, added "We assist our US clients in exploring the advantages of doing business in Luxembourg, offering seminars on various topics of Luxembourg law and advising them on their structures and specific transactions."
The New York office was soft-launched in November 2017 and the official opening was celebrated mid-may 2018 at Carnegie Hall in the presence of Their Royal Highnesses Crown Prince Guillaume and Crown Princess Stéphanie of Luxembourg.
Elvinger Hoss was founded in 1964 in Luxembourg. Since 2017, Elvinger S.à r.l. PLLC has been servicing clients in New York on all aspects of Luxembourg law in association with Elvinger Hoss. Elvinger Hoss also has an office in Hong Kong.