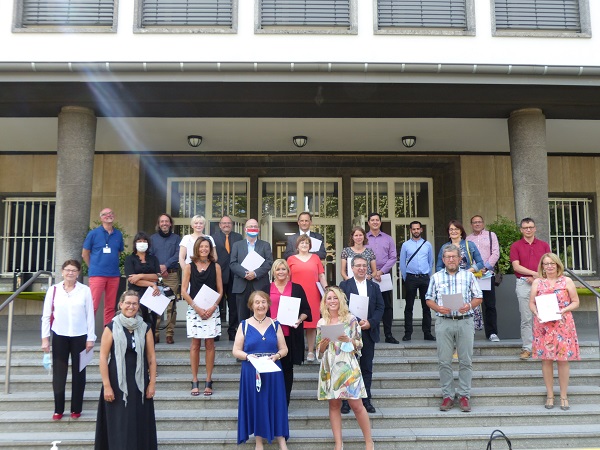 2019/20 graduates; Credit: INL
The Institut National des Langues (INL) has awarded 23 Luxembourgish language and culture certificates.
In 2019/20, the INL organised the eleventh edition of its training course "Certificate of Luxembourgish Language and Culture" (Zertifikat Lëtzebuerger Sprooch a Kultur; ZLSK).
The course focuses on meeting the needs, goals and learning processes of adults who wish to learn Luxembourgish and providing future language teachers with the necessary theoretical, practical, professional and methodological-didactic backgrounds. The course lasts a total of 120 hours split over two semesters and divided into three modules: Didactics (60 hours); Literature and Culture (30 hours); Linguistics (30 Hours).
Students can also gain practical experience teaching Luxembourgish as a foreign language by means of an additional internship (6 hours).
With this certificate, ZLSK graduates are permitted to teach Luxembourgish courses in the municipalities and in the conventional sector.
23 candidates successfully completed the INL course in 2019/20 and are now officially qualified to teach Luxembourgish courses for adults. In the presence of their own teachers, the graduates received their diplomas during a ceremony at the INL, in the presence of Marc Barthelemy, Commissioner for the Luxembourg Language, Eric Goerens, Director of the Adult Education Service, and Maisy Gorza, INL Deputy Director.
Registration for the twelfth edition of the ZLSK training course is open until 31 July 2020 on www.inll.lu.