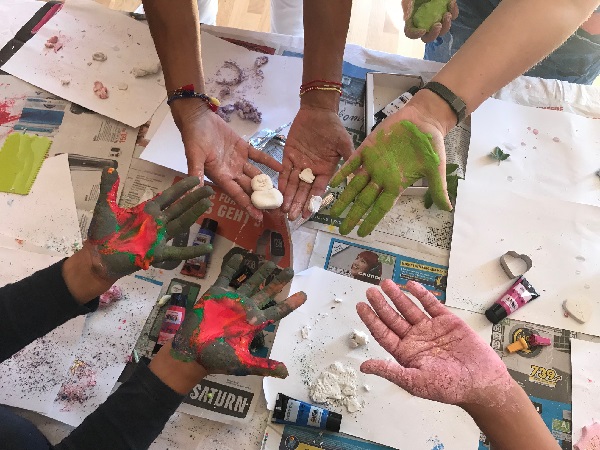 The multi-LEARN Institute organised a "Week in 7 Colors" between 6 and 13 September 2018, a French-language learning initiative for parents with children aged 4-12.
The week-long event, aimed at parents who are new to Luxembourg, beneficiaries of international protection, etc., featured a series of seven socio-educational workshops dedicated to the acquisition of the French language, within a situated, interactive approach.

The principle of this week was as follows: while parents improved their language skills and enriched their multilingual repertoire during interactions in French, their children, supervised by competent facilitators, participated in multiple (re)creative activities, such as gardening, floristic composition, body painting, music, sports, dancing, pantomime and narration/reading.
Every afternoon had a specific colour as a theme in the spirit of the diversity of Luxembourg, be it cultural, religious or social. The closing event of this project took place yesterday in Clausen.

This activity was organised within the project LEILU (Learning to be in the new environment), supported and financed by the Mateneen initiative of the Œuvre Nationale de Secours Grande-Duchesse Charlotte.