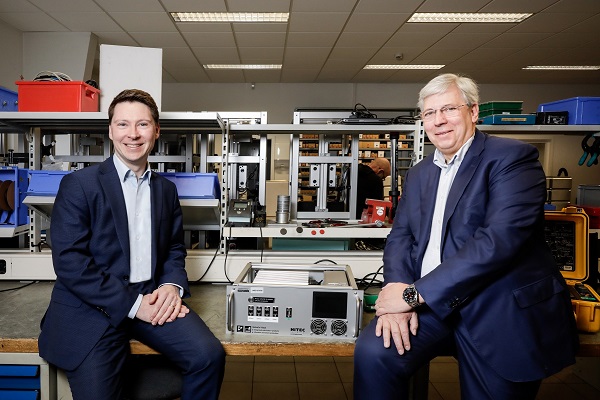 (L-R) Philippe Osch, CEO, HITEC Luxembourg; Yves Elsen, Chairman of the Board of HITEC Luxembourg; Credit: Marie Russillo
HITEC, a Luxembourg-owned company developing high technology solutions, has announced the appointment of Philippe Osch as its new Chief Executive Officer (CEO).
According to HITEC, long-standing Managing Partner and CEO, Yves Elsen, transmitted the operational management to his Senior Partner & Chief Operating Officer (COO), Philippe Osch. This transformation is the result of a long-planned preparation between the two co-owners; Yves Elsen retired as CEO of HITEC but will become Chairman of the Board of Directors.
Yves Elsen has led the expansion of the company and established it as a national and international actor in the field of high technology products and services. He is an engineer and entrepreneur with a degree from the Swiss Federal Institute of Technology (ETH-Z), an INSEAD MBA and IDP-C, and has extensive experience serving on the boards of numerous Luxembourg and international companies.
Yves Elsen, Chairman of the Board of HITEC Luxembourg, said: "The transmission is a guarantee for the continuity of HITEC by the younger generation, a logical step and expected outcome of the trustful cooperation between Philippe and me. We are two like-minded leaders and entrepreneurs who strived to set an example for a remarkable governance over the last ten years."
Philippe Osch, the newly appointed CEO of HITEC Luxembourg, added: "I'm eager to take over the lead from Yves and continue this exciting journey together with our trusted team. I would like to thank Yves for mentoring me over the last decade and I am pleased to continue our professional endeavour. As Chairman of the Board, his guidance will be instrumental in the company's future success. I am committed to continuing to provide our customers with the highest quality products and services."
Philippe Osch holds a Master of Sciences in Engineering from the Swiss Federal Institute of Technology (ETH-Z), a diploma in Technology Management from the Technical University of Delft and an executive MBA from INSEAD. He worked in different consulting and management roles in the high-tech and manufacturing industry before joining HITEC Luxembourg in 2010, where he has since held various management positions. He has been serving as COO of HITEC Luxembourg since 2022 and is also a Member of the Board of Directors.