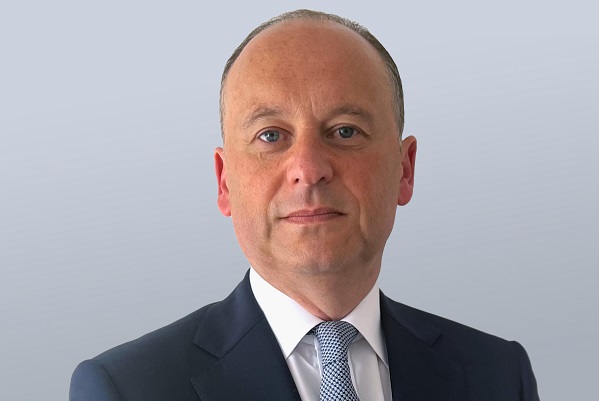 Chris Allen, Group CEO; Credit: Quintet Private Bank
Quintet Private Bank, headquartered in Luxembourg and operating in 50 European cities, announced today the appointment of Chris Allen as Group CEO.
Chris Allen, who brings 30 years of financial services experience to Quintet, will assume his new role on 1 July 2022, subject to regulatory approval.
Over the past fifteen years at HSBC, Mr Allen held a series of roles of increasing responsibility, including CEO of Alternative Investments, CEO of HSBC Private Bank UK and Head of Global Private Banking for Europe, Middle East & Africa. In the latter capacity, he oversaw activities in 20 client markets across six booking centres with some €150 billion in assets under management. Earlier in his career, he served as Executive Director at Colliers Capital, where he focused on growing the firm's fund management business, and as Head of Real Estate Fund Management at a major Middle East bank.
Chris Allen, a British national who holds a degree and investment diploma from Sheffield, City (London) and Cambridge universities, will lead Quintet into the next stage of its long-term growth. He will replace Jakob Stott, who has decided to step down and will leave the firm following a brief transition.
Jakob Stott joined Quintet in 2019 and has overseen key projects such as the merger of Quintet's European Union-based subsidiaries. Since then and primarily against the backdrop of the global pandemic, the European wealth manager strengthened its core operations. This is reflected in the sustained rise in total client assets, which grew from just over €72 billion at the end of 2018 to nearly €100 billion at the end of 2021.
"We are grateful to Jakob Stott for his thoughtful leadership. Working in partnership with an excellent management team and drawing upon the skills and insight of our 2,000 people, Jakob led the firm through uniquely challenging external conditions and sharpened its client focus", Rory Tapner, Chair of the Board of Directors, said. "At the same time, we are eager to welcome Chris Allen, who has earned a strong reputation in the wealth management industry by consistently delivering results. He will apply his experience and energy as he accelerates Quintet's long-term growth – further strengthening our firm's fundamentals and driving the business forward with optimism and determination".
"We thank Jakob for his service and for positioning Quintet for sustained success in the years to come", added George Nasra, Deputy Chair of the Board of Directors and CEO of Precision Capital. "Chris will build upon that progress, bringing his extensive experience in every market in which Quintet operates and applying his decisive leadership. Over the course of his distinguished career, he has instilled a culture of achievement, leading with a pragmatic approach to solving problems, seizing opportunities and earning client trust. Chris has the perfect combination of skills and experience to lead Quintet rapidly forward".
Chris Allen said: "After fifteen wonderful years at HSBC, one of the world's biggest banks, I am excited about joining Quintet, an independent wealth manager that offers a unique combination of international expertise and local knowledge – with an open-architecture approach that means client interests always come first. I look forward to meeting my new colleagues, learning from their experience and earning their trust. Together, we will continue to focus on meeting the needs of every Quintet client – including individuals and families, institutions and professionals – and growing our franchise".
"I am very proud of the way our colleagues worked together in partnership – in the face of the extraordinary external challenges – supporting our clients and strengthening our business", Jakob Stott concluded. "I want to thank all my friends and colleagues for their tremendous effort and collaboration. And I would like to thank our Board and shareholder for their strong support. Finally, I would like to thank the families we serve for the trust they place in our firm. I have no doubt that, under new leadership, Quintet will continue to move forward and become an even better bank".