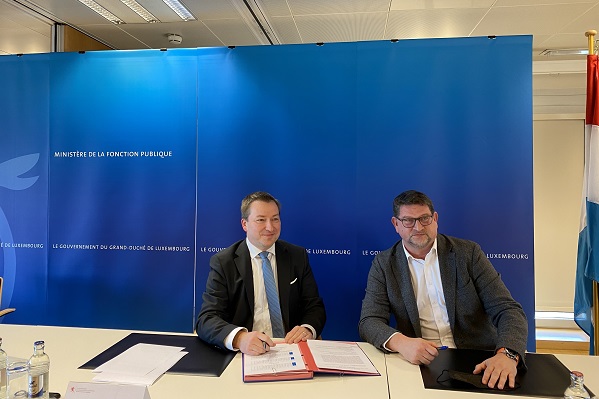 L-R: Marc Hansen, Luxembourg's Minister of Civil Service; Gilbert Goergen, Federal VP of CGFP; Credit: MFP
On Friday 14 January 2022, Luxembourg's Minister of the Civil Service, Marc Hansen, and the professional associations representing civil servants and employees in lower level careers, represented by Gilbert Goergen, Federal Vice-President of the CGFP union, signed an agreement relating to the harmonisation of lower level civil servant and state employee careers.
As part of the salary agreement negotiated between the government and the CGFP civil service union in March 2021, a harmonisation of the progress of current lower level careers was agreed and constituted one of the most important points. On Friday, both the Minister of the Civil Service and the Federal Vice-President of CGFP expressed their satisfaction with the intact social dialogue which, in a complex matter, has allowed talks to progress rapidly in a very constructive atmosphere, having led to the conclusion of a balanced agreement.
It is planned to refocus on a single category of salary / allowance C, comprising only two groups of salary / allowance C1 and C2, depending on whether or not staff members have completed five years of secondary school or equivalent. This grouping will make it possible to limit the number of careers in the future to four instead of the current 27 careers which are the consequence of multiple ad hoc adjustments over the last decades. The overall approach of this harmonisation will eliminate a number of inconsistencies in the arrangement of lower level careers, so as to establish a more transparent and equitable structure and at the same time bring about substantial simplification in the daily management of files of the persons concerned.
This harmonisation, which affects nearly 5,000 staff, including 3,800 civil servants, will also have the effect of removing the barriers currently faced by civil servants in certain treatment groups in terms of the possibilities of changing administration and thus internal mobility will be facilitated.
The drafting of the related texts begins now. It was agreed to apply this harmonisation with effect from 1 July 2022.