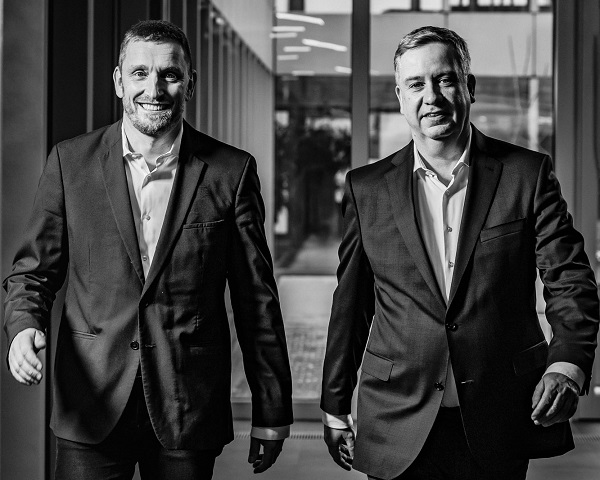 L-R: Olivier Spahn, Partner at delaware BeLux; Olivier Deboeck, Head of Microsoft Application Services for Luxembourg; Credit: delaware
IT consulting company delaware has announced the expansion of its Microsoft services in Luxembourg and the appointment of Olivier Deboeck as Head of Microsoft Application Services for Luxembourg.
Delaware today announced key changes in the breadth and depth of its services in Luxembourg with the addition of Azure Cloud solutions, Microsoft Dynamics CRM and ERP and Business Intelligence solutions. The company is also strengthening its leadership with the arrival of Olivier Deboeck.
"Microsoft Luxembourg is very pleased to support its long-time partner delaware, in the extension of Microsoft solutions in Luxembourg", commented Stefan Lamberigts, Partner Development Manager BeLux for Microsoft.
Delaware has guided Luxembourg businesses through digital transformation since 2011. The company delivers advanced ICT solutions and services, implemented mainly with SAP and Microsoft ecosystems.
Olivier Deboeck stated: "I am delighted to join such a global and fast-growing company with the mission to help companies pursue their business transformation online, also thanks to the support of around 450 experts and the delaware academy, located in Belgium where we train future experts and talents. We have also planned to grow our team in Luxembourg and reach around 25 new recruits in the next eighteen months".
In 2020 and for the 14th consecutive year, delaware was awarded Gold Partnership ranking by Microsoft. It has also renewed its Azure Expert Managed Services Provider rank, allowing companies access to product licenses, technical support, online training, as well as the possibility to connect and collaborate within the partner ecosystem.
"I am proud to welcome Olivier on board and be able to propose our customers even more solutions to grow their businesses. In addition to the consultancy and integration of end-to-end solutions, we are a true business partner with significant business expertise in all Microsoft solutions", concluded Olivier Spahn, Partner at delaware BeLux.