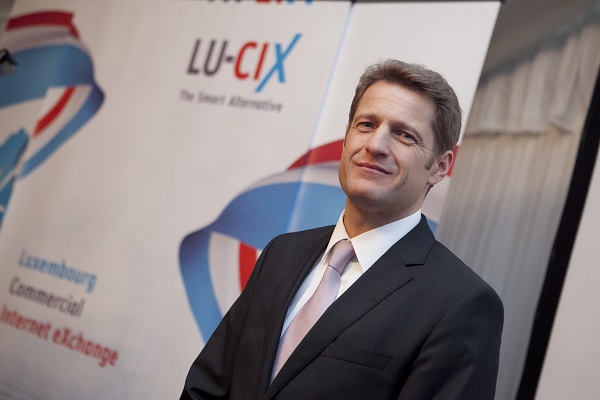 Claude Demuth; Credit: LU-CIX
The LUxembourg Commercial Internet eXchange, LU-CIX ASBL, has announced that Claude Demuth will take over as the association's next chairman.
After more than eleven years, Marco Houwen has decided to step down as the chairman of LUCIX ASBL, the association which he and Claude Demuth, together with the Luxembourg internet industry, founded more than a decade ago to promote and develop the national internet exchange and sector.
Marco Houwen commented: "It is with a very heavy heart that I announce my decision to step down as the founding Chairman of LU-CIX ASBL. After thoughtful consideration, I concluded that it is time for a change for me and for the organisation. My personal decision three years ago to focus my personal and professional life on the human aspects of business through coaching, facilitation and organisational design is no longer aligned with me being Chairman of LU-CIX ASBL and ultimately being the representative of the Internet and Data Centre community in Luxembourg".
In 2008, the idea for a neutral, not-for-profit and member-based national internet exchange was presented to the public authorities, as well as some internet companies in Luxembourg and the Greater Region. At the start of 2009, LU-CIX was founded. Since then, LU-CIX has never stopped growing and today counts almost the entire national internet industry among its 63 members. More than an association, LU-CIX has become a huge community over the years gathered around the desire for a strong and reliable internet-related ecosystem in Luxembourg and in Europe. It became increasingly active for the promotion of Luxembourg as an ICT Hub in the centre of Europe. One of its key achievements is the Luxembourg Internet Days yearly event, which gathers more than 1,000 professionals during two days in November to discuss sector-specific issues in a pragmatic way.
The LU-CIX national Internet exchange backbone is now present in six Data Centres across the country, interconnects almost all national Internet services providers (ISP) and hosts the servers of very large international streaming, social media and search engine companies. Today, up to 80% of all domestic internet traffic in Luxembourg passes through its infrastructure.
In 2016, LU-CIX was recognised by the Luxembourg government as a supplier of "services d'intérêt économique general" (general economic interest services) and in 2019, the association was the first Internet exchange point to support the "Paris Call" for trust and security in cyberspace.
"I am proud of the amazing achievements we have accomplished all together as the LU-CIX community during the last eleven years. The fact that with very limited resources at the beginning we created a cross industry organisation and the leading and undisputed representative of the professional Internet community in Luxembourg, fills me with tremendous gratitude. My thanks go to every one of our founding members for having the openness and vision to believe in this project and to every single representative of our community contributing to the success of our organisation," concluded Marco Houwen, just before passing the torch to Claude Demuth.
Indeed, the LU-CIX ASBL Committee has unanimously elected Claude Demuth, co-founder and former secretary, as new Chairman of LU-CIX ASBL. Claude Demuth and Marco Houwen have always shared the same vision for the internet exchange. According to the association, the former's election ensures LU-CIX's continuity and at the same times reinforces its ambitions for an enhanced security strategy, even more products and solutions for its members and a more secure internet communication in Luxembourg.