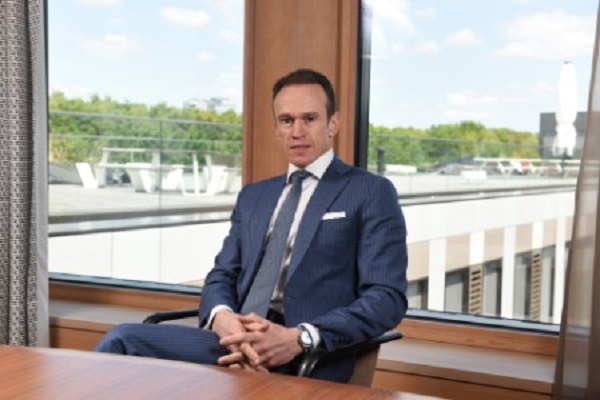 Alain Kinsch, current Country Managing Partner; Credit: EY Luxembourg
EY Luxembourg has announced the addition of a new Country Managing Partner and the approval of the new Country Leadership Committee, with effect from 1 July 2020.
As announced in its press release of 8 November 2019, EY Luxembourg's ten-year strategic cycle, Vision 2020, will come to an end on 30 June 2020. During the Last twelve months, Country Managing Partner Alain Kinsch led the process of a detailed definition of a new strategy for EY Luxembourg together with his partners, in execution of the strategy of EY Global, Next Wave. "Ambition 2026" is a six-year programme defining ten specific objectives for the next fiscal years from 2021 to 2026
In anticipation of the retirement of most of the members of the current management committee, Alain Kinsch conducted a consultation in 2019 with all the partners of EY Luxembourg, in order to reach a consensus on the size, roles and composition of the new management team. While having the support of all the partners to continue in his role as Country Managing Partner of EY Luxembourg, Alain Kinsch expressed the wish (after eleven years in this role) that a new Country Managing Partner be appointed and take over the management of EY Luxembourg from July 2020, with the mandate of executing Ambition 2026. Alain Kinsch will support the new team in this transition until December 2020.
Alain Kinsch commented: "I have the great pleasure of announcing the support of all my associates for the appointment of Olivier Coekelbergs, to ensure my succession from 1 July 2020, and of the members of our new executive committee. The appointment of a new Country Managing Partner represents a key moment in the creation of a partnership". He added: "Olivier gives particular priority to the exceptional service to be offered to our customers, to the growth prospects of our services and to our talented professionals, but also demonstrates a strong and sincere commitment in active support for the development of the Luxembourg economy. Olivier joined our Private Equity department as an auditor in 2004, then became a partner in 2010, and succeeded me as head of the Private Equity practice in 2012. His solid leadership qualities have been demonstrated in particular by his ability to triple the turnover of this department in the last eight years. His appointment turns out to be an excellent choice. I am proud that he will take over in six months, and he knows that he will be able to count on my continued support long after I leave".
Olivier Coekelbergs added: "Alain designed and carried out an effective strategy with the partners, while leading and federating a team of committed partners, with the permanent objective of delivering the best possible service to our customers, while paying particular attention to the execution excellence. I am very honoured to be appointed as Alain's successor and affirm my ambition to meet the expectations of our partners, professionals and clients".
Olivier Coekelbergs heads the Private Equity practice at EY Luxembourg, currently comprising 400 employees. Serving Private Equity houses for over 20 years, the 45-year-old Belgian national has taken on the role of Vice-President of the Association of Private Equity and Venture Capital in Luxembourg (LPEA). Holder of a license in business management, with a specialisation in auditing and accounting, obtained from the Catholic University Faculties of Mons (Belgium) in 1999, Olivier is "Certified Company Auditor" in Luxembourg.
Alain Kisch also announced the appointment of Yves Even to the role of Chairman of the Board of Directors on the new management team. He will replace Jean-Michel Pacaud, who will retire on 1 July 2020. Alain Kinsch elaborated: "Yves currently heads our "Public and commercial sector" department, specialising particularly in service for companies and entrepreneurs based in Luxembourg, but also family businesses and the public sector. Thanks to his customer-oriented approach and his strong roots in our local market, I am delighted that Olivier can count on his support, just as I had the pleasure of counting on the support of Jean-Michel".
Yves Even, a 47-year-old Luxembourg national, is also in charge of the "Entrepreneur of the Year" programme. He is an "approved company auditor" in Luxembourg and holds a Masters in economics from the Louis Pasteur University in Strasbourg, France.
The EY Luxembourg Partnership unanimously approved the constitution of the following Country Leadership Committee (CLC), effective as of 1 July 2020:
Country Managing Partner: Olivier Coeckelbergs (Belgian)
Audit: Olivier Lemaire (Belgian)
Tax: Bart van Droogenbroek (Belgian)
Advisory: Laurent Moscetti (French)
People/Human Resources: Isabelle Nicks (Belgian)
Risk Management: René Ensch (Luxembourgish)
Finance and Business Development: Alban Aubree (French)
Managed Services and Operations: Bernard Lhoest (Belgian)
In addition, the appointments to the following management team will be effective on 1 July 2020:
Chairman of the Board of Directors: Yves Even (Luxembourgish)
Real Estate Sector Leader: Dietmar Klos (German)
Private Equity Sector Leader: Laurent Capolaghi (French)
Insurance Sector Leader: Bernard Lhoest (Belgian)
Digital Leader: Brice Lecoustey (French)