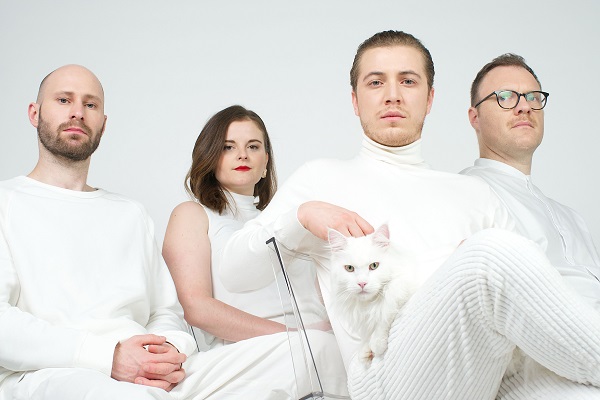 Michel Meis 4tet; Credit: Navid Razvi
Luxembourg musicians Michel Meis and Gilles Grethen will be playing album release shows with their respective quartets later this month, as part of the Like a Jazz Machine festival, taking place from Thursday 13 to Sunday 16 May 2021 at the opderschmelz cultural centre in Dudelange.
Michel Meis 4tet feat. Théo Ceccaldi – "Kaboom"
The Michel Meis 4tet will release their second album "Kaboom", with the internationally renowned violinist Théo Ceccaldi as guest, on Double Moon Records. The quartet will play an official release concert on 13 May 2021, with the album release date set for 28 May 2021.
As its name suggests, Kaboom is a forceful sonic detonation as well as a "tour de force". On its long-winded songs, Michel Meis's hybrid identity, nestled somewhere between his hardcore heritage and a penchant for quiet yet progressive jazz rhythms, comes to the fore. In addition to his usual acolytes, violinist Théo Ceccaldi features on some of the seven tracks and four improvised interludes.
The Michel Meis 4tet will also play a separate gig (unrelated to this album release), without Théo Ceccaldi, on 5 June 2021 at the ArcA cultural centre in Bertrange.
Gilles Grethen Quartet – "Time Suite"
Gilles Grethen is a young jazz guitarist who will release his first album "Time Suite" with his quartet on Double Moon Records later this month. Gilles Grethen Quartet will play an official release concert on 15 May 2021, with the album release date set for 28 May 2021.
Many musicians have already thought about the concept of time; Gilles Grethen has written a whole "Time Suite" for his quartet. Grethen entered the world of jazz through classical music and his father's CD collection. At a young age, he first learned how to play violin and clarinet, later learning how to play drums and bass, as well. He later studied at the University of Music Saar in Saarbrücken, where he met his co-musicians, namely the Luxembourg drummer Michel Meis and the Italian bassist Gabriele Basilico. The trio were later joined by German trumpeter Vincent Pinn.
Both album release concerts are sold out, although further information about the release of "Kaboom" and "Time Suite" is available on the Challenge Records International website.