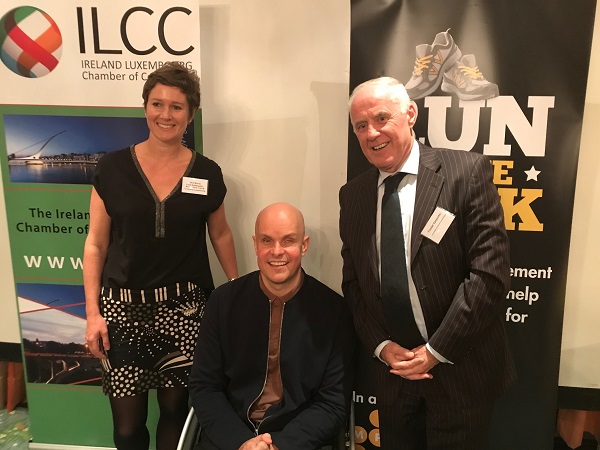 ILCC event (L-R): Jane Murray, organiser of Luxembourg's Run in the Dark; Mark Pollock; Ambassador Peadar Carpenter;
On Thursday evening, the Ireland Luxembourg Chamber of Commerce (ILCC) hosted an event at the Hotel Parc Belair with guest speaker Mark Pollock speaking on "How can we be resilient in the face of challenges?"
Mark Pollock is an Irish international motivational speaker, explorer and author who became the first blind man to race to the South Pole. As part of a three-man team called South Pole Flag, he spent 43 days in January 2009 trekking in temperatures as low as -43C. In 2010, he was left paralysed after a fall from a second story window. Now, Mark is exploring the intersection where humans and technology collide and catalysing collaborations that have never been done before.
Mark demonstrated his unique ability to link his personal story to people´s everyday life and work challenges - the evening was not just about listening to an incredible story, it was a chance for everyone to really think about themselves.
He started his story in 2010 when he was staying with friends and fell out of a second floor window, following which he could not feel anything from his stomach down - and this confounded after going blind 12 years before. He said that sometimes we choose to challenges and sometimes challenges choose us.
In 1998 when he could see, he was studying in Trinity College in Dublin, in his final year, and set to got to London to be an investment banker. He had come down from Hollywood, Co Down, to row with the university. Within two weeks he went completely blind, going from someone who had a clear identity to someone who was relegated to the sidelines. He got a guide dog as well as talking aids, went back to study and got a Masters and went back rowing. He talked about competing in the Commonwealth Games, but acknowledged that it was not the World Championships or the Olympics.
Ten years later he got the opportunity to re-establish and create a new entry by taking part in a race to the South Pole, up against British Marines, Norwegian special forces, etc, all experienced adventurers. He recalled the challenges to get a team of three and the substantial entry fee together, as well as getting fit enough to participate.
He talked about enduring hardships, not just himself in the Antarctic, but others in extreme circumstances, and referenced his blog he was writing. He talked about his accident and becoming a paraplegic. His story was interspersed with video clips, including his stay in hospital and remaining optimistic yet realistic. However, optimists rely on hope alone, while realists deal with both acceptance and hope. He came to accept the wheelchair, and is sad for what he has lost. He has hope for the future and described it as a good place to be.
He talked about the impossible becoming possible by human endeavour, with the same human endeavour as are exploring parts of our solar system, curing paralysis in our lifetime by working in robotics and electric stimulation of the spinal cord, etc., allowing people like him to walk again.
He explained about moving to Los Angeles for three months a couple of years ago and meeting scientists who mixed the two technologies. He talked about the time being incredibly interesting and the collaboration between scientists, philanthropists and investors, but acknowledged the lack of collaborators. He is trying to galvanise a disparate group of people around a common goal, in finding a cure for paralysis in his lifetime. There are many soloists but few collaborators.
To recap, he had talked about deciding to be a competitor or a passenger, being a realist or an optimist, a collaborator or a soloist.
The Run in the Dark Luxembourg, a global movement running together to help fast-track a cure for paralysis, is being held for the 6th year running in the Grand Duchy, with around 1,000 participants expected on Wednesday 14 November - 25,000 people are expected to participate around the world on that date. See https://www.runinthedark.org/luxembourg/