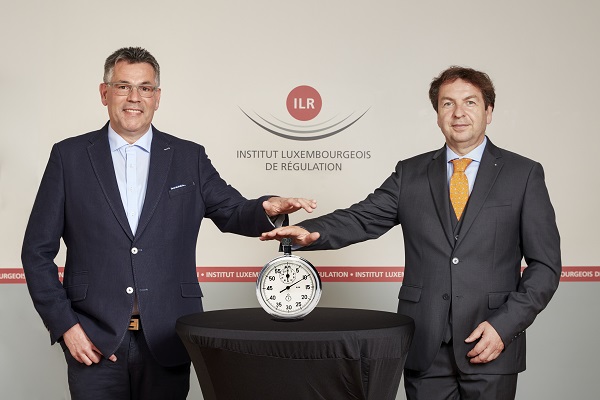 L-R: Claude Rischette, head of ILR frequency services; Luc Tapella, ILR director; Credit: ILR
The Luxembourg Institute for Regulation (ILR) has announced the launch of an auction for the allocation of frequencies in the 700 MHz band and the 3600 MHz, which will be used for the deployment of 5G in Luxembourg.
The ILR has just auctioned two frequency bands for the implementation of a fifth generation mobile network. Two parts of the frequency bands are subject to auction: 2 x 30 MHz in the 700 MHz band (703-733 MHz and 758-788 MHz); and 330 MHz in the 3600 MHz band (3.420-3.750 MHz).
This is a first in Luxembourg; this licensing procedure has never been applied in the past because either the demand for spectrum corresponded to the quantity of available spectrum or the licenses were granted within the framework of a public call for applications to the best bidder by a comparative selection ("beauty contest").
The rights of use will be granted for an initial period of fifteen years and the licenses will be renewable at least once for a period of five years.
The results of the public consultation conducted by the ILR in July 2019 to set the criteria for granting user rights (licenses) in the 700 MHz and 3600 MHz frequency bands revealed that the spectrum supply in the bands in question did not meet the demand expressed by the companies that contributed to the consultation. Subsequently, Luxembourg's Prime Minister and Minister for Communications and Media, Xavier Bettel, instructed the ILR to organise the most appropriate type of auction procedure, as well as the arrangement of the spectrum parts in batches for the auction.
The selection procedure for the allocation of the 700 MHz and 3600 MHz frequency bands commenced on 13 March 2020. The ILR then published the details of the organisation and the auction rules for the two frequency bands in question in the context of a draft ministerial decision. On 11 June 2020, the Minister of Communications and Media announced the list of qualified candidates, whose applications were deemed valid.
The following candidates are admitted to participate in the auction: ELTRONA INTERDIFFUSION S.A.; LUXEMBOURG ONLINE S.A.; ORANGE COMMUNICATIONS LUXEMBOURG S.A.; POST LUXEMBOURG; PROXIMUS LUXEMBOURG S.A.
According to the ILR, the auctions may last several days. The names of the operators who were able to acquire the 5G frequencies cannot be revealed before the end of the auction.