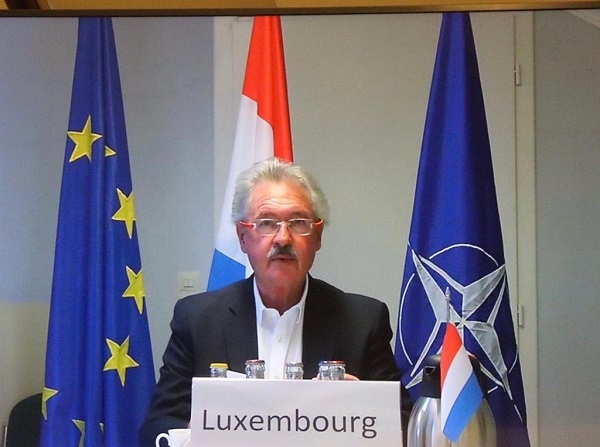 Luxembourg's Foreign Minister Jean Asselborn; Credit: MAEE
Luxembourg's Minister of Foreign and European Affairs, Jean Asselborn, participated in the meeting of NATO Foreign Ministers which took place in the form of a secure videoconference on Thursday 2 April 2020.
At the ministerial meeting, chaired by NATO Secretary General Jens Stoltenberg, the foreign ministers discussed the security implications of the crisis created by the COVID-19 (coronavirus) pandemic. This was the first such meeting to bring together 30 member states, with North Macedonia having officially joined the North Atlantic Alliance on 28 March 2020.
In his introductory remarks, Jean Asselborn reiterated that "the international community must unite to overcome the crisis caused by the COVID-19 pandemic and its devastating effects on our economies and our security", adding that "we must defend our values - notably democracy, human rights and the rule of law - and not allow turning back". Luxembourg's Foreign Minister added that "the fight against the pandemic and the preservation of the rule of law are complementary and not contradictory".
Minister Asselborn went on to express his gratitude to the NATO agencies, in particular to the Supreme Headquarters Allied Powers Europe (SHAPE) and to the NATO Support and Procurement Agency (NSPA) for the fast and efficient support they brought to Luxembourg by providing field hospital tents to increase hospital reception capacities.
In order to face the challenges linked to disinformation, propaganda and cyber threats, Jean Asselborn stressed that "cooperation with the European Union and international organisations such as the United Nations is more essential than ever" .
Similarly, Minister Asselborn appealed for the Allies "to continue to promote arms control, disarmament and non-proliferation". In this context, he advocated the extension of the New START (Strategic Arms Reduction Treaty) US-Russia nuclear arms reduction treaty beyond 2021 and for the preservation of the Treaty on Open Skies.
Luxembourg's Foreign Minister also spoke of the North Atlantic Alliance's support for Afghanistan and Iraq and the imperative to "remain committed to preserving the achievements of the past and to ensuring the security of their populations beyond the current crisis".
Regarding the NATO-Russia dialogue, Jean Asselborn reaffirmed the validity of the two-track approach, stating: "Dialogue with Russia is a very difficult exercise, but it is useful, and it does not mean that we're back to business as usual".
In conclusion, Minister Asselborn welcomed the launch of the forward thinking process aimed at strengthening the political dimension of NATO.