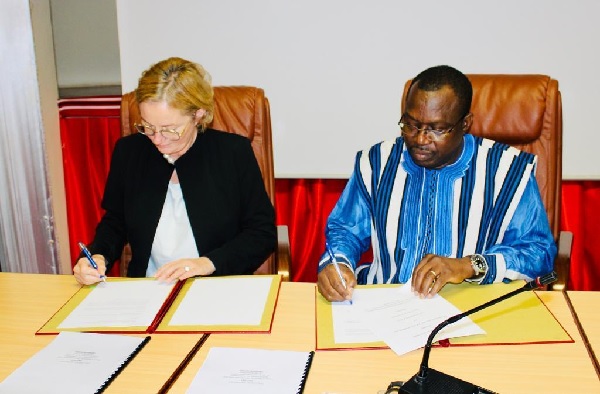 L-R: Paulette Lenert, Luxembourg Minister of Development Cooperation and Humanitarian Action; Lassané Kaboré, Minister of Economy, Finance and Development of Burkina Faso; Credit: MAEE
Luxembourg and Burkina Faso launched a new project in the field of vocational training on the occasion of the working visit of Luxembourg's Minister of Development Cooperation and Humanitarian Action, Paulette Lenert, to Burkina Faso from 20-23 October 2019.
On the occasion of the 20th anniversary of cooperation between Luxembourg and Burkina Faso, Minister Lenert met with the President of Burkina Faso, Roch Marc Christian Kaboré, as well as with the Prime Minister, Christophe Dabiré. Discussions focused on the close ties between the two countries and Minister Lenert reiterated Luxembourg's commitment to this cooperation, despite the current insecurity in Burkina Faso.
As Burkina Faso is one of the seven priority partner countries of the Luxembourg Cooperation, Minister Lenert's visit also formed part of the 11th Partnership Commission between the two countries. On this occasion, the programmes of the Luxembourg Cooperation deployed in Burkina Faso were reviewed while looking at the future. This was also the opportunity to launch a new project in the field of vocational training, to announce an increase in the budget of up to €6.2 million for the education sector and to enact an 18-month extension of a project in the field of ICT.
Minister Lenert also took advantage of her visit to meet with the representatives of the fifteen Luxembourgish NGOs active in Burkina Faso and their local partners, who have shown resilience in the context of degrading security in difficult areas of the country.
Paulette Lenert also gave an opening address at the 4th African Microfinance Week (SAM), the flagship event of the inclusive finance sector, which is co-organised by the Luxembourg NGO ADA and which brought together more than 650 members of public, private and civil society and the area of research. In this context, Minister Lenert was able to exchange with clients of the Agence de Crédit pour l'Entreprise Privée (ACEP Burkina), an institution supported by the Luxembourg Cooperation.
Paulette Lenert went on to visit the vegetable market and the craft village of Ouagadougou, one of the first projects of the Luxembourg Cooperation launched in 1999, a shea butter processing unit and a business incubator that assists young professionals in the creation of start-ups. Together with the Ministry of Development of the Digital Economy and Posts, Ouattara Sanon, Paulette Lenert concluded her stay with a visit to the site of a satellite relay set up by the Luxembourg company SES as part of a connectivity project of the state administration.