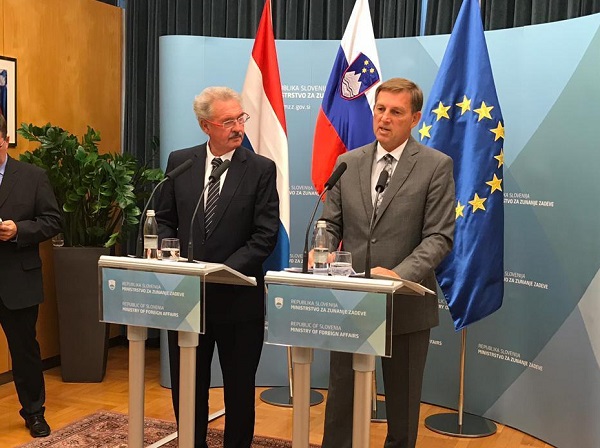 L-R: Luxembourg's Minister of Foreign and European Affairs, Jean Asselborn; Slovenia's Deputy PM, Minister of Foreign Affairs, Miro Cerar; Credit: MAEE
Luxembourg's Minister of Foreign and European Affairs, Jean Asselborn, yesterday undertook a working visit to Ljubljana, the capital of Slovenia.
During this visit, Minister Asselborn met with his Slovenian counterpart, Miro Cerar, as well as Slovenian President Borut Pahor, Prime Minister Marjan Sarec and Deputy Prime Minister and Minister of Defence, Karl Erjavec. The meetings reaffirmed the excellent bilateral relations that exist between Luxembourg and Slovenia and encouraged discussion of potential avenues of stronger cooperation, particularly in the fields of the economy and digitisation.
In his capacity as Chair of the Benelux Committee of Ministers, Jean Asselborn also welcomed the efforts made in recent months to strengthen cooperation between Benelux and Slovenia. Indeed, the two foreign ministers agreed to intensify the three-on-one dialogue on European issues of common interest.
The ministers went on to review major news events in Europe with an exchange of views on the new institutional cycle and the priorities of the new European Commission. In particular, Ministers Asselborn and Cerar stressed the need to strengthen the internal cohesion of the EU by returning to the fundamental principles that are at the origin of European integration. Both sides were in broad agreement on key European issues, including the deepening of the internal market, the protection of the rule of law (both in the EU and regarding international law) and the withdrawal of the UK from the EU. They also reaffirmed their support for the Commission's recommendation to open accession negotiations with North Macedonia and Albania.
The foreign ministers similarly reviewed current international political developments, including those in the Middle East, and the role of the EU as a global player, as well as its means of dealing with crises in neighbouring regions and the interests and priorities of EU foreign and security policy.
Minister Asselborn also discussed the EU's migration policy with his Slovenian counterpart, focusing in particular on migratory flows on the Balkan route. In this context, Luxembourg's Foreign Minister recalled the importance of solidarity between member states in terms of hosting refugees. He also spoke in favour of restoring the normal functioning of the Schengen area. The two ministers finally addressed the issue of enlargement of this area.