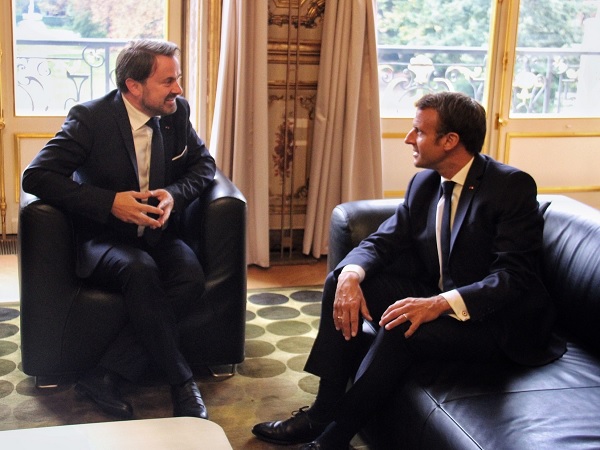 L-R: Luxembourg Prime Minister Xavier Bettel; French President Emmanuel Macron; Credit: Ministry of State (ME)
Luxembourg's Prime Minister Xavier Bettel met with French President Emmanuel Macron on Tuesday during a working visit to Paris.
During a working meeting at the Elysée, the Luxembourgish and French political leaders discussed European issues of common interest, especially those in preparation for the next European Council in Brussels in October: the fight against climate change, an EU budget that helps revive the European economy and migration.
Luxembourg's Prime Minister also met the Mayor of Paris, Anne Hidalgo. During this meeting, the two sides shared their experiences on mobility and multi-modality, as well as the Luxembourg Government's plan to make public transport free from March next year. Other topics discussed included the role of cities in the fight against global warming, citizen participation and the transition to an increasingly digital society.
Xavier Bettel then met with his French counterpart, Prime Minister Édouard Philippe, at the Hôtel Matignon to take stock of the bilateral relations between Luxembourg and France, as well as cross-border cooperation.
Following his working visit to Paris, Luxembourg's Prime Minister commented: "The positions of Luxembourg and France are very close in a significant number of European and transnational [areas]. Digitisation, the climate, a healthy and sustainable European economy, as well as the deepening of the internal market have been chosen as priorities for Franco-Luxembourg cooperation". He added: "Bilateral relations between France and Luxembourg are based on trust and are rooted in the historical friendship of our countries. And I am confident that we will continue to work together on these issues in the future".