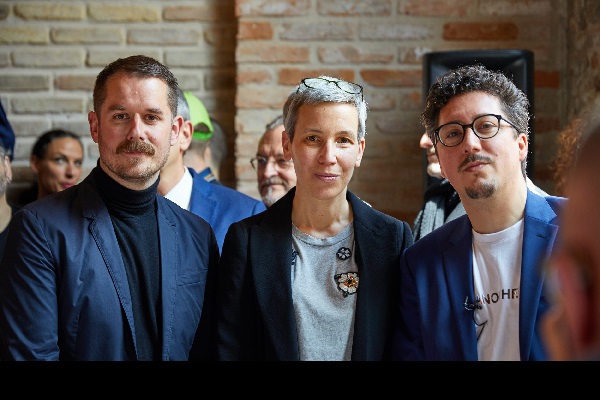 L-R: Kevin Muhlen, Director of Casino Luxembourg - Forum d'art Contemporain; Sam Tanson, Minister of Culture; Marco Godinho, artist; Credit: Andy Davison Photography
Yesterday marked the inauguration of the Luxembourg Pavilion at the 58th edition of the International Contemporary Art Exhibition of the Venice Biennale.
In the presence of the artist Marco Godinho, chosen to represent Luxembourg during this 58th edition of the Biennale, Minister of Culture Sam Tanson inaugurated the pavilion and highlighted the quality of exhibitions that have continued to adorn the Luxembourg pavilion over the past twenty years.
With his project entitled "Written by Water", Marco Godinho has chosen to focus, in the continuity of his artistic approach, on the relationship that man has with the sea.
Sam Tanson welcomed guests to the magnificent Sale d'Armi, which will house the Luxembourg Pavillon at the Venice Biennale for the next 20 years. The Culture Minister commented: "The contract, signed in 2017 between the Luxembourg State and the Fondazione La Biennale di Venezia, demonstrates the undeniable commitment of Luxembourg and its Ministry of Culture for art, architecture and culture in general". For the first time, Luxembourg leaves Ca 'del Duca, where the exhibitions were held since 1999, to take part in the International Exhibition of Contemporary Art in Sale d'Armi, located in the very heart of Arsenale, at the centre of the Venice Biennale.
Mandated by the Ministry of Culture, Casino Luxembourg - Forum of Contemporary Art is responsible for the organisation and coordination of the project.
The international exhibition of contemporary art of the Venice Biennale will last from 11 May to 24 November 2019.