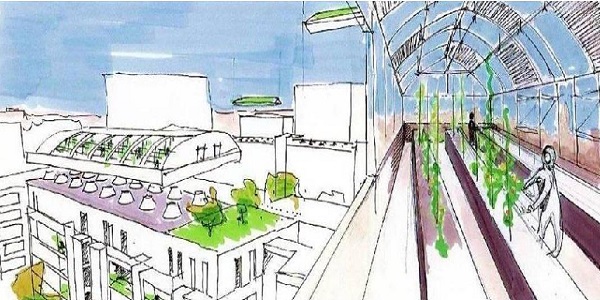 European project GROOF (Greenhouses to Reduce CO2 on RooFs), which has a pilot greenhouse project in Luxembourg, has called for additional projects.
Launched in 2017 and supported by the INTERREG NWE programme, GROOF consists of an innovative cross-sectoral approach to reduce CO2 emissions from the construction and agricultural sectors by combining energy sharing and local food production. Redesigned, these buildings can become true technological platforms with new features, able not only to produce and/or store energy for example, but also to produce vegetables.
While focusing on reducing the energy and environmental impact, the GROOF project promotes the implementation of greenhouses on the roofs of buildings and facilitates their emergence on the market by demonstrating and disseminating to the actors of construction and agriculture good practices, favorable to the development of profitable and functional social business models. As a result, four pilot greenhouse projects are currently under construction in Luxembourg, Belgium, Germany and France.
GROOF will not stop there, however, and today launched an international call for new projects. These could be related to building a greenhouse on a roof, people who own a building with a flat roof and want to value it or those wanting to be an innovative player in the reduction of CO2 emissions.
Participants will benefit from the advice of European experts in energy, construction, urban agriculture, food production and business models, as well as obtaining an attestation from GROOF experts and saving time and money by benefiting from personalised support throughout the implementation phase of their construction project
Private, independent or representatives of a company or community are invited to register until 30 June 2019 at http://www.groof.eu/ or via email: opencall@groof.eu.