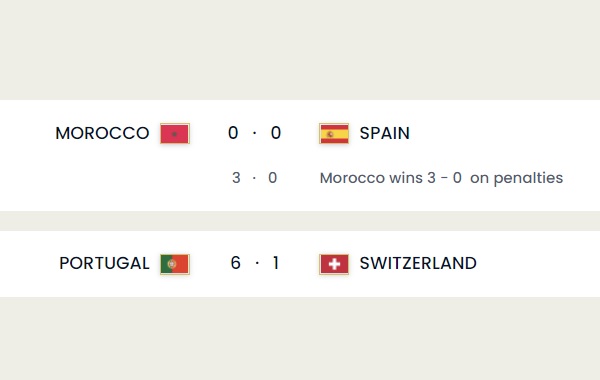 On Tuesday 6 December 2022, the fourth of four consecutive days of last-16 matches saw Morocco (ranked #22) face Spain (ranked #7), and Portugal (ranked #9) face Switzerland (ranked #15), with the winners of both meeting in the fourth quarter-final.
The first match saw Morocco (playing in red jerseys and green shorts) against Spain (kitted out in an unfamiliar light blue jerseys and white shorts) at the Education City Stadium. Spain had come second in their group to Japan, and Morocco had topped their group which included Belgium, as well as Croatia and Belgium. The opening exchanges were fairly equal apart from Belgium showing more composure on the ball and willing to build up slowly, whereas Morocco were more eager and, to a degree, a bit more rash with their passing. But there was no doubting both teams' desire. Both teams were using the full width of the pitch but not much was happening in either goalmouth. On 25 minutes, Morocco could have fallen behind but had their goalkeeper Bono, the post and last-ditch defending for keeping out shits from Gavi following great build-up play by Ferran Torres. On 32 minutes, Morocco saw a good passage of play conclude with Mazraoui letting fly with a pile-driver from outside Spain's box, which was comfortably held by goalkeeper Simón. To loud whistles from the crowd, Spain then enjoyed sone territorial advantage, with crisp passing around Morocco's box; however, the North Africans' defence was solid and the Iberian team could not line up a clear shot on goal. On 41 minutes, Morocco's Aguerd missed the target with a close-range header following good build-up on the left flank. Gavi then crossed the ball high into the Morocco box, but it was well beyond the reach of his team-mates. 1 minute of added time announced. HT 0-0. While Morocco (who were enjoying a huge and very vocal support) had slightly the upper hand in the first half, both sides were playing conservative football with risk-averse formations: it was difficult to see from where a goal would come. Neither team showed they could be clinical in front of goal. So would there be any changes after the break? No, not yet, anyway. On 54 minutes, Bono stopped a ferocious shot from Olmo; Spain were content to continue building slowly and wait for an opportunity to present itself. Spain made the first change on 61 minutes, with Morata and Soler coming on; shortly afterwards, Ezzalzouli entered the fray for Morocco. Spain were seeing more of the ball and won just their second corner on 68 minutes but, with Morocco getting everyone back behind the ball, they could not get sight of goal and set up a shot. Besides that, Morocco's defence was solid, with sliding tackles keeping Spain at bay. On 72 minutes, Morocco tried a counter-attack and catch Spain on the break, but their last pass let them down. Williams then came on for Spain. Laporte received the first yellow card of the match for a bad tackle, with Morocco awarded a free kick. But Spain were starting to dominate and press more, with their attacks increasing in frequency. Morocco's Aguerd had to leave the field due to injury; he was in tears. Cheddira then had a shot on Spain's goal, after a great move down the right wing, but could not get any power behind it. Suddenly the game had opened up. Belgium had a attack and Williams' shot was blocked. On 89 minutes, Morocco's Ounahi was booked and Spain had a free kick on the edge of the penalty box. 5 minutes time added on. Down the other end, Simón almost let in the Moroccan attack as he mis-timed a back-pass. Morocco had a free kick awarded but it ended up being offside. The Moroccan supporters continued to whistle whenever Spain got possession. Another free kick to Spain. A last chance? Great goalkeeping from Bono. Corner to Spain. But the referee blew fir the end of regulation time, with 2 periods (each of 15 minutes) of extra time to come. Morocco had made 5 substitutions, and Spain 3; as the game had gone to extra time, teams were allowed up to 6 each. In the second half, Morocco's defence had been immense, restricting Spain to a solitary shot on target. On 4 minutes, Cheddira was through on Spain's goal but Laporte chased back in time to make a decisive tackle just as he was about to shoot. Spain were pushing high, leaving gaps at the back. Williams was doing well on Spain's right flank, and Morata on the left, both getting crosses in, but none were connected. Morocco were content on letting Spain come at them and then trying to counter-attack. The ball dropped for Balde but his shot was blocked. Up the other end again, Cheddira had another great chance to break the deadlock, but Simón saved with his feet to keep Spain in the game. 1 minute of added time. HT in extra time, still 0-0. On 24 minutes, after Amrabat brilliantly won the ball in midfield, Cheddira was away again, but still Spain's defence stopped him from getting in a shot. Up the other end, Morata had the ball again but he could not get in a cross. And Williams threatened down the right but, again, he could not find a teammate to shoot. 1 minute left. Llorente races down the right: corner to Spain. Both sides make a substitutions left with penalties looming. 3 minutes of added tine at the end of extra time. Spain try to shoot but their efforts are thwarted. Last attack for Spain… a cross to the back post but Sarabia's volley skies across the goal, hits the other post and goes out. FT 0-0, now penalties! Morocco go first and Sabiri scored; Spain's Sarabia then hit the post. Bono then saved but so did Simon. Bono saved another one! Hakimi then scored the winning penalty for Morocco, 3-0, knocking out Spain!
The second match saw Portugal (who won their group comfortably but lost their last group match to South Korea after resting some players, having already qualified) against Switzerland (who lost narrowly to Brazil). Would this match be a stepping stone for Christiano Ronaldo to go all the way and lift the trophy on Sunday week? Or would it be another tournament surprise with Switzerland qualifying instead for the quarter-finals? The big team news is that Cristiano Ronaldo, following his negative and rather petulant reaction to being substituted in their last game against South Korea, has been dropped and starts on the substitute's bench. A similar issue happened in one of his last matches for his club, Manchester United… But he is not the only big name in the team, with the likes of Bruno Fernandes starting. Meanwhile, Switzerland has arguably the strongest squad in their footballing history. Switzerland (playing in an all-white strip) started strongly with Embolo proving to be a threat down the right. Portugal, too, seemed to be comfortable going forward, in a game that already looked to be more open than the day's earlier game. On 16 minutes, Bernardo Silva had a great opportunity as he beat the Seiss offside trap but his cross was dealt with by the Swiss defence. From the ensuing throw-in, Gonçalo Ramos, on for his first start for Portugal, was in on goal and blasted the ball into the top near-post corner despite the vest efforts of Sommer, the Swiss goalkeeper. 1-0 to Portugal. The Iberian side did not let up and attacked again from the off, with the ball coming back to Otávio whose long-range shot was comfortably saved by Sommer. A minute later and Gonçalo Ramos had another shot on target, but the sting was taken out thanks to a Swiss defender's leg intervening. Switzerland's Schär needed some medical attention - he had been unwell during the week - but he recovered to play on. Vargas had a sprint up the left wing but the Portuguese defence snuffed out the threat. On 30 minutes, Switzerland were awarded a free kick outside the box; Shaqiri's bullet-like shot was tipped around the bottom of the right-hand post by Diogo Costa in Portugal's goal. Two minutes later and Portugal went further ahead: from a corner, Pepe powered a header into the back of the net, with Sommer helpless to stop it. 2-0 to Portugal. Could Switzerland recover and get back in the game? They desperately needed a goal before half-time. On 37 minutes, Fernandes crossed into the box only for Freuler's header to be saved off the line after the keeper was beaten. Switzerland were pressing hard for an equaliser with Portugal defending hard. On the break, Gonçalo Ramos received the ball out on the left but his low shot was saved by the outstretched Sommer. 4 added minutes. HT 2-0 to Portugal. Switzerland made one substitution at half-time, with Cömert on for Schär. On 50 minutes, with their first attack of the second half, Gonçalo Ramos got his second goal, and Portugal's third, when he met Dalit's cross from the right at the near post and found the back of the net. 3-0 to Portugal. Switzerland then took off Sow and Freuler and put on Zaharia and Seferovic. But Portugal almost immediately increased their lead yet again, with Guerreiro blasting in their fourth. Then, on 57 minutes, Switzerland grab a consolation back with Akanji tapping in at the far post. 4-1, it was raining goals! Zaharia won a corner for Switzerland but it came to nothing. On 66 minutes, Gonçalo Ramos was though on the keeper and gently lobs the diving Sommer for his hat-trick (reminder: on his first start for his country, in a knock-out game at the World Cup). 5-1 to Portugal, with a quarter of the game remaining. Zaharia had a shot but the Swiss defence charged it down. A huge cheer went up from the crowd on 72 minutes when Christiano Ronaldo came on as part of a triple substitution by Portugal. On 75 minutes he took a free kick but his bullet-like shot was straight at the wall. With 10 minutes left on the clock, Embolo tried an ambitious and spectacular overhead kick but it was just wide of the left post. Christiano Ronaldo did manage to get the ball in the back of the net, on 83 minutes, but it was ruled offside. 4 added minutes. On 91 minutes, Rafael Leão broke through on the left, wrong-footed the goalkeeper and his shot ended up in the top right corner of the net, for Portugal's sixth. FT 6-1 to Portugal.
Like the previous day, these were two contracting matches, one dominated by defence and being decided on penalties, with the other involving a lot of goals with wonderful, attacking football.
Portugal will now face Morocco in the fourth quarter-final on Saturday 10 December.
Meanwhile, today and tomorrow see the first rest days of the tournament, before we see the first two quarter-finals on Friday, with Croatia against Brazil and Argentina against the Netherlands.