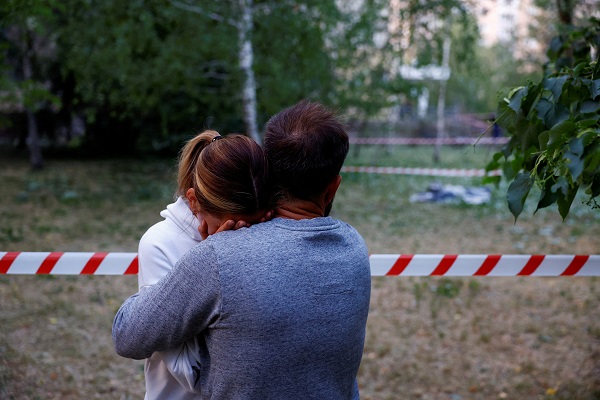 Local residents react near the body of a person killed in a Russian missile strike, at the compound of a municipal clinic, amid Russia's attack on Ukraine, in Kyiv, Ukraine, 1 June 2023; Credit: Reuters/Valentyn Ogirenko
KYIV (Reuters) - An eleven-year-old girl, her mother and another woman were killed in a Russian missile strike on Kyiv early on Thursday 1 June 2023, Ukrainian officials said.
Ukraine's air force said air defences shot down all ten ballistic and Iskander cruise missiles launched from Russia's Bryansk region in the eighteenth attack on the capital since the start of May 2023.
But falling missile debris often causes damage during such attacks. Police said a medical clinic, kindergarten, residential buildings and cars were damaged, and the Kyiv military administration said three people were killed and ten hurt.
The city authorities did not say how they were killed but police said the victims included the eleven-year-old girl and her mother.
"It is international children's day. At night, Russia again killed a child in Kyiv," said Andriy Yermak, chief of President Volodymyr Zelensky's office. "Since 2014, the terrorist country has been committing crimes against little Ukrainians. From 24 February 2022, no one has any doubts - this is a real genocide."
Russia has denied targeting civilians or committing war crimes but its forces have caused devastation in Ukrainian cities and repeatedly hit residential areas since its full-scale invasion on 24 February 2022.
Russia has intensified missile and drone attacks on the Ukrainian capital as Kyiv prepares to launch a counteroffensive. Russia says Ukrainian shelling of border areas has increased in recent weeks as Kyiv prepares its counterattack.
The Kyiv military administration reported damage in the Desnyanskyi region on the capital's eastern outskirts as well as Dniprovkskyi district, closer to the centre.
Photographs posted on the Kyiv authorities' website showed windows blown out in a clinic and nearby apartment buildings. Other photos posted on social media showed rescue teams attending to residents in buildings, with shattered building materials strewn about on the street.
Air raid alerts in Kyiv and in most of eastern Ukraine were in effect for about an hour.