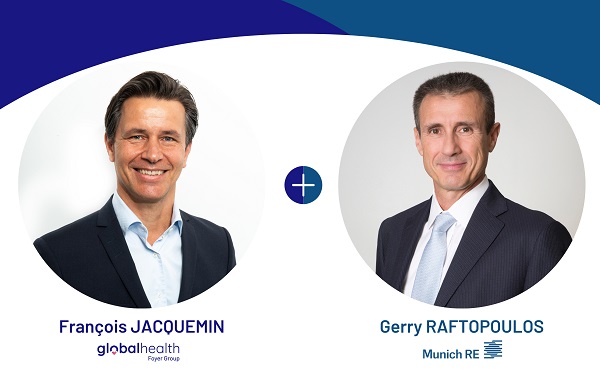 L-R: François Jacquemin, CEO of Foyer Global Health; Gerry Raftopoulos, CEO of MR HealthTech; Credit: Foyer Global Health
Foyer Global Health, the Luxembourg-based international health insurer and service provider for globally mobile people of Foyer SA, has signed a deal with MR HealthTech, a division of Munich Re, to deploy MEDNEXT 10 as its core health insurance management system.
MEDNEXT 10 has been selected to enable Foyer Global Health, the daughter company of Luxembourg insurer Foyer SA, to digitally transform its ecosystem and support its aspirational goals for growth.
MR HealthTech is a leading global specialist in digital solutions for the health insurance industry, with a quarter-century of expertise.
François Jacquemin, CEO of Foyer Global Health, commented on the occasion: "Our objective at Foyer Global Health is to best serve the health needs of individuals and groups around the world through our tailored health plans. To meet this objective, we have established a strong relationship with MR HealthTech based on trust and transparency as basis for our partnership. Both parties have dedicated teams of seasoned professionals with proven track records in digital and iPMI environments and are working towards the project's successful launch. Thanks to this partnership, we will replace our current system with a robust platform that will serve our current and future needs and significantly enhance our customer experience".
Gerry Raftopoulos, CEO of MR HealthTech, added: "Our partnership with Foyer Global Health is a significant milestone as it extends our presence in Europe and in the iPMI market segment. MEDNEXT 10 will help Foyer Global Health transform its business by leveraging an innovative, technologically advanced, agile, and automated insurance management system. We always build long-term relationships with our customers and Foyer Global Health is an ideal partner as we share common corporate values, like client centricity and drive to succeed".