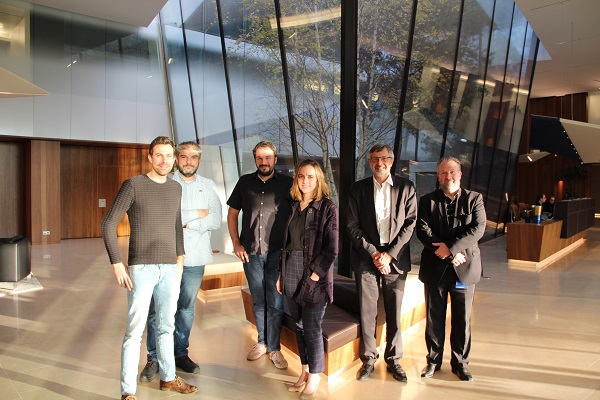 The Foyer and Chatlayer.ai teams; Credit: Foyer
Luxembourg insurance company Foyer Group has announced the development of its first chatbot, Leonie, in collaboration with Chatlayer.ai.
Leonie is the result of the first Foyer Hackathon, the insurance company's annual innovation challenge, held in March 2017. On this occasion, two teams devised and designed an instant communication solution to help customers in case of damage.
Following this competition, and as part of the Group's broader innovation strategy, Foyer teams took a closer look at the emergence of chatbots, robots that, using technologies linked to artificial intelligence, allow a user to quickly find answers to simple questions in an online chat window. To develop these skills, Foyer formed a partnership with the start-up Chatlayer.ai, active in the Benelux and specialised in linguistic design and the development of conversational bots.
As the start-up's first client in Luxembourg, Foyer has expressed its contentment with this collaboration with Chatlayer.ai, a partner that offers many references, as well as an in-depth knowledge of the language issues specific to the Benelux markets. Foyer was also convinced by the support offered by Chatlayer.ai, which is particularly didactic, reportedly allowing its employees to acquire basic knowledge and a certain autonomy in this field.
According to the Group, being able to communicate easily with its clients on simple subjects and in natural language is in line with Foyer's desire to be customer-centric. In addition, with a view to developing such a project, Foyer launched an internal pilot in October 2019 to familiarise itself with the basics of this technology.
Leonie has become more than just a robot, according to Foyer. With a response rate of around 80%, she assists all Foyer Group's employees with many issues related to day-to-day personnel management, including working hours, holidays, parking and extra-legal benefits, while freeing Human Resources (HR) teams from simple and repetitive tasks. In view of the growth in the Group's staff in recent years, the HR department is increasingly being called upon. This subject was therefore chosen for a full-scale test.
Foyer Group has cited 24/7 availability, speed, efficiency and quality as the main takeaways from his first experience of chatbots technology. With its new knowledge, the Group has also announced its intention to take inspiration from Leonie to develop such tools for its customers and agents, starting in 2020.
Manuel Kauffmann, IT Correspondent for the Business at Foyer, commented: "In our reflections on chatbots technology, it was important for us to acquire real skills in this field, which our partnership with Chatlayer.ai clearly brought us. Thanks to this, we were able to develop our first internal chatbot in a very short time, which offers us multiple possibilities of extension to our agents and customers in the coming months".
Rick van Esch, Chief Commercial Officer at Chatlayer.ai, added: "Chatlayer.ai is proud to be working with Foyer as their first reference in Luxembourg. Our multilingual chatbot & voicebot platform, together with the great agility of the Foyer team, have resulted in the go-live of chatbot Leonie in less than three months".