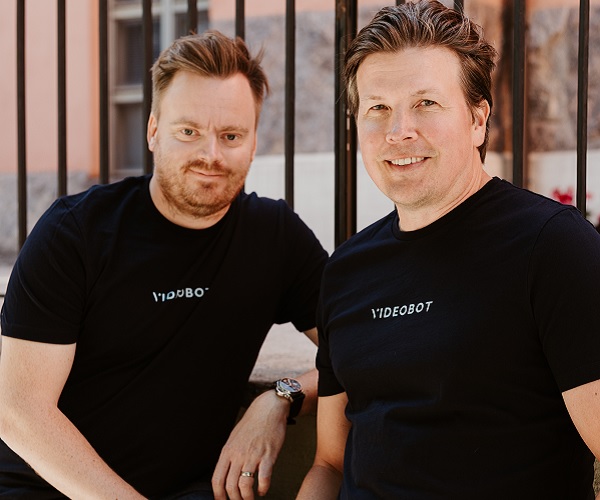 Anssi Kiviranta and Matias Mäenpää, Videobot's co-founders;
On Tuesday 29 August 2023, the Finnish SaaS startup Videobot - with offices in the Grand Duchy - announced that it has successfully raised €2 million in seed funding from Luxembourg's Expon Capital Digital Tech Fund, Finland's Superhero Capital, and angel investors, Sweden's Urban Gillstrom and Finland's Ari Korhonen, members of the Luxembourg Business Angels Network (LBAN).
The company aims to transform the landscape of online customer engagement using personalised, interactive videos. The funding will be used to accelerate Videobot's growth, especially in Europe and the US markets, both in which the company has already gained a solid foothold with over 200 customers in fifteen countries and in multiple diverse industries.
Founded in 2022, the fast-growing startup harnesses the increasing popularity of video content to augment traditional website experiences. The world is turning towards video consumption on all fronts. As Generation Z and younger are fully adapted and in demand of more video content over text, the global digital video content market size reached US $171.5 billion in 2022. As the younger generations' attention span for ads has plummeted to only one second, brands and companies are looking for ways to engage their website visitors as well as explain their products in a simpler, more cohesive way.

"80% of internet traffic today is video. Videobot represents a paradigm shift in online communication," explained Anssi Kiviranta, co-founder of Videobot. "Our platform seamlessly integrates the convenience of chatbots with the engaging power of short videos, opening new horizons for businesses to connect with their audiences."

Videobot's fusion of chatbot and video technologies has given rise to a unique solution that represents a whole new service category. With on-demand product demonstrations and effective, simple explanations of complex product information, businesses can achieve measurable enhancement in their customer acquisition. Videobot's clients have witnessed a 98% increase in engagement, 150% more time spent on the website and a 36% increase in overall sales lead volume.

Chronicle.lu reached out to Videobot co-founder Matias Mäenpää, who is based in Luxembourg. He stated: "We like to call the Videobot venture a Finnish-Luxembourgish startup as we have a strong and strategic position in both places. And personally, I have lived in Luxembourg with my family since 2019, and have been an active member of the local startup ecosystem for the last four years. Why Luxembourg? It's super international. It's like it's the world in small size in the middle of everything. Furthermore, the country has a great interest in startups and invests in developing the ecosystem."

Videobot's Luxembourg presence is established as a subsidiary and its office is located in the Luxembourg City Incubator, part of the House of Startups in Luxembourg-Bonnevoie. The Luxembourg office currently has three full-time employees, and there are plans to grow this further. The company already has several Luxembourg companies as clients and has more to come.
"The success of Videobot within such a short time is a testament to its transformative potential," said co-founder Matias Mäenpää. "We believe that the future is fully video-based websites, not just widgets or plug-ins. With internet connections becoming faster and more stable, any brand can build its customer acquisition with video material. Potential clients are fully engaged from the get-go, and they are guided through a personalised video experience based on their choices and needs. We're thrilled to collaborate with visionary investors who share our commitment to shaping the future of online engagement."

Since its launch in autumn 2022 at the renowned growth company event Slush, Videobot has made consistent strides in securing significant clients, including game giant Supercell, one of Finland's largest media company's event organisations, and Moi Mobiili. "We had been searching for a solution to create an interactive bot for our website. Videobot was the perfect solution - ever since we launched it, our sales have been growing," said Ulla Koivula, sales and marketing director at Moi Mobiili.

"The world around consumer behaviour and website lead generation is changing rapidly. We saw Videobot's potential instantly - with an experienced founder team and impressive growth results within the first months of its existence, Videobot was a perfect addition to our portfolio. Videobot is a true trailblazer in this industry, and we wanted to support them in their quickly accelerating growth," said Juha Ruohonen, General Partner at Superhero Capital.

Looking ahead, Videobot envisions a future where video-driven engagement becomes the norm across industries. The startup's ambitions include securing 1,000 customers and annual billing of €3 million by the end of 2024, with an objective of growing their team to 50 employees.