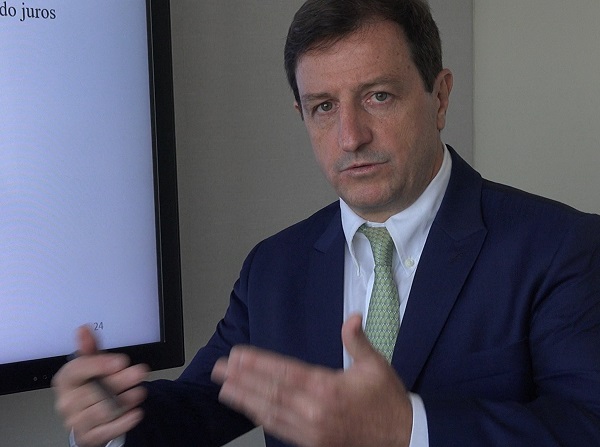 Gyorgy Varga, Partner at InvestSet;
Chronicle.lu recently had the opportunity to speak with Gyorgy Varga, Partner at InvestSet, to learn more about this Luxembourg-based fintech and its investment management solutions.
This article forms part of a series of interviews with "newcomers" hosted at the Luxembourg House of Financial Technology (LHoFT), i.e. startups having joined the LHoFT since 1 January 2022. InvestSet has been present at the LHoFT since March 2022.
Chronicle.lu: Please introduce your company and the products/services it offers.
Gyorgy Varga: InvestSet is a wealthtech that connects investors to a global database of investment funds, stocks, ETFs [exchange-traded funds] and bonds. Our wide range of information includes descriptive data, documents, quantitative data and all sorts of analytics. We offer advanced portfolio management tools like optimisation, backtests, tracking and performance reporting. These tools are backed by a user-friendly cloud-based SaaS [software as a service] platform accessible on mobile, desktop, APIs, Excel links and white label solutions.
We have three main products: InvestSet Asset Comparator, a free tool for comparing assets and generating concise reports; InvestSet Uno is a robust and customisable product that not only provides asset comparison tools but also offers a range of analytical features; InvestSet White Label, a fully customisable solution that can be integrated into client platforms. We also provide solutions involving automation of complex document-based workflows, using intelligent document processing systems and machine learning.
Chronicle.lu: What led to the creation of your company?
Gyorgy Varga: We've been in the technology scene for the financial market for quite some time now. Our team has a lot of experience in other markets, like Latin America, where we've developed customised solutions that are used by the big players. This led us to explore opportunities for expansion. During our market analysis, we identified a gap in both the European and Asian markets and realised the potential to "export" our technology. The primary and secondary data we gathered highlighted a competitive landscape dominated by a few major players, but with limited customisation options and high prices. This further reinforced our belief that our technology could fill the existing void in these markets. So, we thought, why not leverage our technology and expertise to develop a portfolio tailored for other markets? And that's how we kicked off the process.
Chronicle.lu: What brought your company to Luxembourg?
Gyorgy Varga: Luxembourg was a natural choice, given its significant role in the global financial ecosystem. After all, it is recognised as one of the leading financial centres in the eurozone and the second-largest investment fund centre in the world - the beating heart of Europe, as many would say. Moreover, Luxembourg is a cosmopolitan region attracting individuals from diverse backgrounds, fostering connections and embracing cultural diversity. We are certain that it was the right choice: we have already established partnerships with prestigious institutions such as the Luxembourg Stock Exchange and we are based in LHoFT, which provides excellent infrastructure for fintechs, startups and companies in the financial market.
Chronicle.lu: What makes your company and its offer unique?
Gyorgy Varga: Despite the presence of major players, we conducted a detailed market assessment to develop a unique value proposition. The first area where we truly stand out is by offering a highly customisable service. Imagine our portfolio as a set of Lego bricks, where clients can select the asset classes and analytical tools that best fit their specific needs. The second point is our customer service, backed by a team of experts in technology and finance. Our dedicated team possesses deep knowledge in both domains, enabling us to truly understand the dynamics of the market and address the unique needs of our clients.
Chronicle.lu: What is next for your company?
Gyorgy Varga: We have successfully moved past the product-market fit phase and have a robust and valuable solution for the market. Our focus is on expanding our client portfolio and establishing ourselves as a significant player in the European landscape.