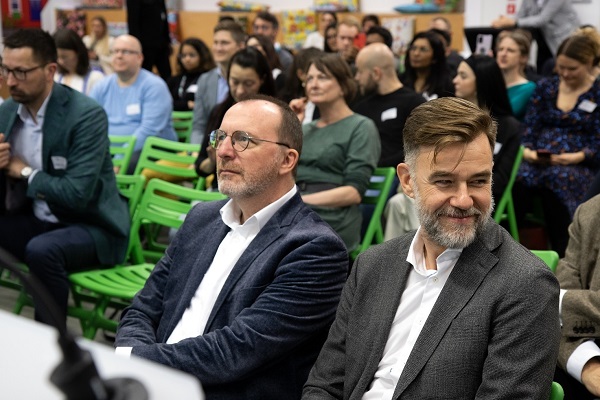 (L-R) Georges Engel, Luxembourg's Minister of Labour, Employment and the Social and Solidarity Economy; Franz Fayot, Luxembourg's Minister of the Economy; Credit: MECO
As part of the "Social Innovation BarCamp" organised on Thursday 30 March 2023 at the House of Startups in Luxembourg-Bonnevoie, Luxembourg's Minister of the Economy, Franz Fayot, and the Minister of Labour, Employment and the Social and Solidarity Economy, Georges Engel, launched the first call for projects to promote and support social innovation in the Grand Duchy.
Successful projects can be subsidised up to a maximum of €200,000 to partially cover related costs, such as staff costs.
At the launch of the call for projects, Minister Fayot said: "The social and solidarity economy and more particularly social entrepreneurship, fuelled by social innovation, are one of the ways to meet the challenges of sustainable development, while contributing to the creation of quality jobs and the sustainability of the economy."
Minister Engel said: "We will continue to encourage the creation of societies of societal impact, because faced with the challenges we are currently facing, it is essential to promote another mode of doing business that focuses more on social and environmental aspects. It is also in this spirit that my ministry has inaugurated the Social Business Incubator, which is the central meeting point for all actors in the sector."
Applications must be submitted by 15 June 2023 at the latest and must include a description of the project or programme, the activity or investment and its innovative nature, as well as a description of how they are developed and their economic potential. An information sheet detailing the modalities for participating in this call for projects and the related form is available on guichet.lu.
According to the respective ministries, social innovation can be characterised as an economic activity directed towards the preservation and development of social ties, the maintenance and strengthening of territorial cohesion, the development of cultural or creative activities as well as the development of initial or continuing training activities. Some possible project examples are: combatting food waste and making the potentially wasted food available for charitable purposes; devising concepts that provide free spaces for housing, for example cohabitation with elderly people, in order to combat the housing shortage; forming an energy community to pool the purchase and operation of a renewable energy production plant.