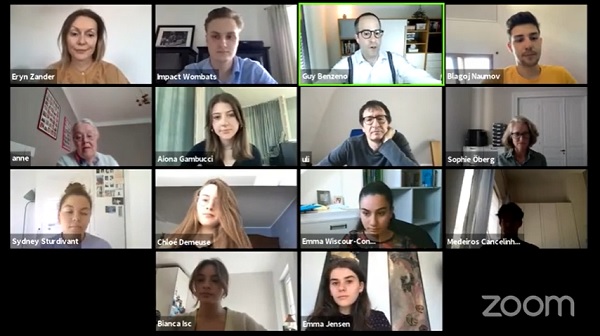 On Friday 23 April, a series of pitches concluded the social entrepreneurship competition for secondary school students that was held digitally in Luxembourg from 19 - 23 April 2021, organised by a youth movement Impact Wombats with the support of Spuerkeess, Fondation Été and IMS Luxembourg.
A total of fourteen teams of 15-19-year-olds were given a week to develop a business idea around the theme "Sharing is caring", a business that would turn physical possessions into life experiences for more people, including the underprivileged. A business that would respect planetary boundaries, enhance the value of human connections and ultimately contribute to at least one of the Sustainable Development Goals - with every transaction, with every euro made.
52 students participated in the challenge, representing various Luxembourg schools: Athenée de Luxembourg, European School of Luxembourg I and II, Lycée Aline Mayrisch, Lycée Robert Schuman and the International School of Luxembourg.
Some of the brightest stars of Luxembourg's entrepreneurial ecosystem mentored the teams: Alex Rochegude (Flashiz), Patrick Kersten (Doctena), Bert Boerman (Governance.com), Aida Nazarikhorram (LuxAI), Shamala Hinrichsen (Hanai), Patrick Rahme (All Square), Sylvain Chery (Agile Partner), Erich Francois (ING Night Marathon Luxembourg), Gaelle Haag (Startalers), Michel Hoffmann (Giftable), Francesca Pogliani (Deskover), Gira Szakmar (eduGamiTec), Joshua Streitz (OUNI) and Xavier Delposen (Co-evolution).
The jury was represented by Uli Grabenwarter (European Investment Fund), Sophie Oberg (IMS Luxembourg) and Anne Contreras-Muller (Arendt, European Impact Investing Luxembourg). Guy Benzeno of Central Stage orchestrated the show, while Marianne Donven (Chiche!) and Nicolas Hentgen (Haltra Group) were invited as keynote speakers to share their social entrepreneurship and impact investing experience, respectively.
The Nature Defense League team from European School of Luxembourg won the Challenge with Smoo-V, a business idea exploring the hidden value of potential vegetable food waste. Team RedGreenBlue of Athénée de Luxembourg was the runner up with a Luxembourg tourism-focused business Outbound. Team Ekomfort of Lycée Aline Mayrisch came up with a gardening tools sharing solution, which earned them the 3rd prize of the Challenge.
The full video of the Pitch Day is available at www.impactwombats.com
Impact Wombats - a youth movement started in Luxembourg in early 2020 by a group of high school students with an idea to promote social entrepreneurship as a constructive way to tackle the most pressing global issues. Youth-led initiative has become a platform aiming to inspire young people to apply their motivation, creativity and passion and build business ideas for a sustainable future and a better world. The name of the organisation pays tribute to wombats, animals native to Australia, who became real heroes of the Australian bushfires as the large and complex system of wombat burrows provided a safe underground refuge for other wildlife.