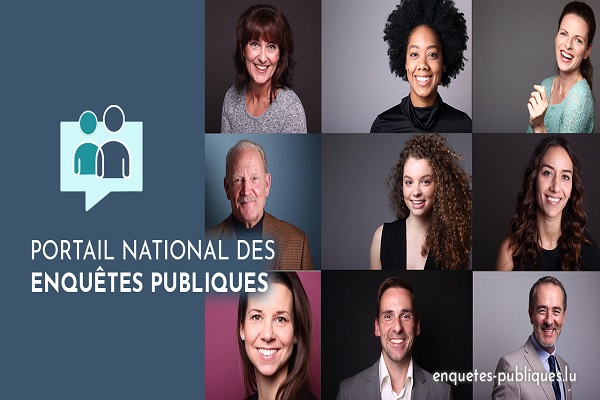 Luxembourg is set to launch its new national portal for public inquiries next Wednesday 13 January 2021.
On Thursday 7 January 2021, Marc Hansen, Luxembourg's Minister Delegate for Digitalisation and Minister Delegate for Administrative Reform, presented the national portal for public inquiries. This is an initiative of the Ministry of Digitalisation and forms part of the government's efforts in the field of reform and administrative simplification.
Minister Hansen explained: "In view of the transversal nature of public inquiries, it seemed essential to us to provide citizens with a digital means to consult these inquiries and to submit their contributions. This is an additional means to the current methods, specific to each procedure".
This internet portal will bring together all kinds of public inquiries and is accessible from anywhere, at any time, meaning that the general public no longer needs to travel to consult documents relating to a public inquiry. In addition, a notification system to which he or she can subscribe informs the interested party about ongoing investigations or on a particular topic. In cases where the procedure so provides, the public can also submit their contributions directly electronically from a MyGuichet.lu assistant.
For public services, the management of public inquiries has been made easier and faster due to the simplified collection of contributions from the public.
The project is made up of three complementary modules: an internet portal at www.enquetes-publiques.lu for members of the public wishing to be informed about the inquiries in progress and to consult the related documents; a MyGuichet.lu assistant through which the public can submit their contributions; a back office to which the organising entities have access in order to manage their public inquiries.
The internet portal is divided into four main sections: current public inquiries and related information; official opinions relating to public inquiries and administrative decisions; an agenda of planned information meetings as well as the contact details and opening hours of the organising entities; an explanatory guide to the administrative procedures concerned.
The portal is available in four languages ​​(French, German, English and Luxembourgish). The entities organising public inquiries therefore have the possibility of providing information relating to their inquiries in these four languages.
The portal will be available from 13 January 2021 and will offer information about fifteen different proceedings, as well as related public inquiries.
Minister Delegate Marc Hansen concluded: "Knowing that at the present time, we have identified a total of 58 procedures, through 20 different legal texts, our ambition is to complete the range of procedures available during the launch by all those who, once the adapted texts may be added to them. We are currently conducting discussions in this direction, both at state and municipal level. For us, this is a pilot project with great potential".