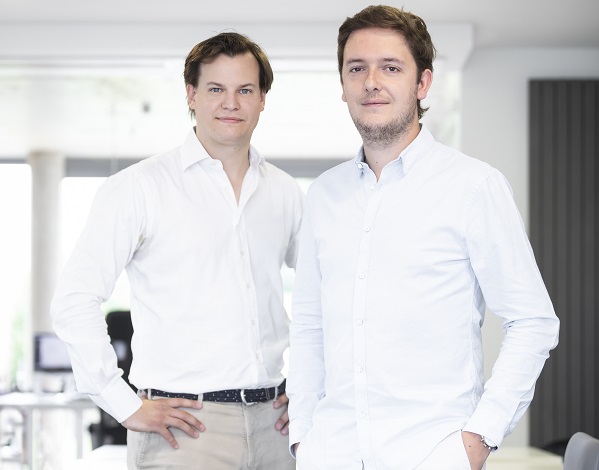 Co-founders Nicolas Speeckaert and Mike Reiffers; Credit: Skeeled
Luxembourg startup skeeled has reported a growth in turnover of more than 120% in 2019, as well as a new partnership with VONQ.
Established in Luxembourg in 2014, the skeeled startup helps companies find, attract, select and hire the best talent thanks to its software based on artificial intelligence (AI). At the time of the launch of the V3 of its software, it announced an increase in turnover of over 120% in 2019 as well as a partnership with VONQ.
Nicolas Speeckaert, co-founder of the startup, explained: "Recruiting and acquiring talent are fundamental processes for companies. As the market is constantly evolving, we are also evolving, in order to offer ever more innovative solutions to recruiters".
In June 2020, skeeled launched the V3 of its talent acquisition software, with new recruitment marketing features in particular. In addition to having generated growth of more than 120% in 2019 compared to the previous year, the startup plans to double its workforce, based in Luxembourg and Porto (Portugal), by the end of 2020, from 25 to 50 people in the team.
In addition to the technological evolution intrinsic to its tool, skeeled regularly forges new partnerships with job vacancy platforms. After having signed an agreement with ADEM in 2018, the startup has just signed a partnership with VONQ, a European leader in job distribution. This partnership will allow skeeled users to set up advertising campaigns for open positions via VONQ's vast network (more than 2,000 channels around the world), combining the publication of job offers and the purchase of associated marketing campaigns in the press. skeeled has also moved closer to the international group Indeed, which it has technologically integrated into its tool to automate the publication of offers.
skeeled also announced its intention to continue its development, targeting +100% growth in 2020 compared to 2019 and doubling its workforce.