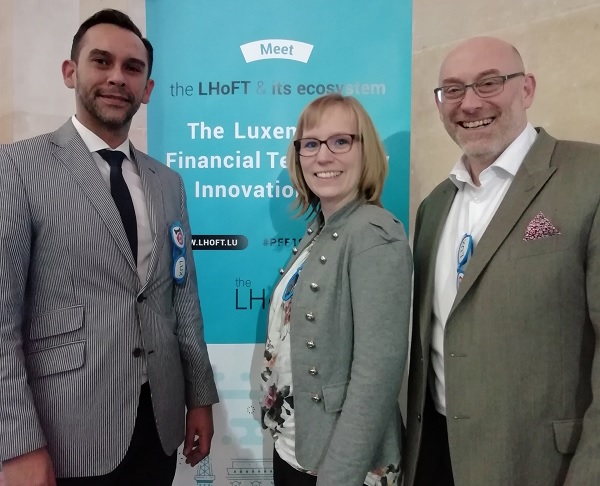 (L-R): Nasir Zubairi, LHoFT CEO; Nadia Andersen, Deloitte Luxembourg; Mike Sigal, Upside Partners co-founder; Credit: Lhoft
On Wednesday 30 January 2019, at the Paris Fintech Forum, the LHoFT Foundation, Luxembourg's Fintech Innovation Hub, Deloitte Luxembourg, one of Luxembourg's largest professional services firms, and Upside Partners, a leading innovation and digital transformation advisory firm, signed an agreement to deliver the exclusive Upside Academy Innovation programme to Luxembourg financial institutions as part of the LHoFT's (Fin)Tech Talent Month in March 2019.
The Upside Academy programme aims to help teams from Luxembourg financial institutions build repeatable and scalable internal capabilities to drive digital transformation, cultural change and measurable returns on investments in innovation.
Many institutions around the world have been investing into their innovation, digital transformation, and startup-partnering capabilities. Yet the majority of these institutions experience common, persistent challenges such as a lack of alignment on digital transformation strategy, unstructured process to attract and select the right startups for partnership or investment, inefficient processes for onboarding and implementation, difficulty engaging lines of business or purchasing departments, and a general failure to drive meaningful new revenue, best practices or competitive positioning through their innovation strategy.
The Upside Academy programme will be delivered exclusively to teams of up to five executives from each of ten Luxembourg financial institutions.
"The Upside methodology has helped corporate teams around the world accelerate internal alignment, skills development, and cultural change necessary to drive lasting outcomes from innovation and transformation investments. We're thrilled to partner with LHoFT and Deloitte to help accelerate the success of Luxembourg's vibrant financial services ecosystem" said Mike Sigal, co-founder of Upside Partners.
"The Upside Academy program is the next logical extension of our service offering helping our clients from the financial services industry to cope with innovation and digital transformation. Institutions that want to stay on top of competition need to be able to quickly and successfully integrate external innovative solutions" said Patrick Laurent, Technology & Innovation Leader at Deloitte Luxembourg.
Nasir Zubairi, CEO of the LHoFT stated "Effective Innovation, transformation and procurement processes are key capabilities that increasingly drive competitive advantage in financial services. We have clearly identified a need from institutions to improve in all these areas. The Upside Academy program, delivered by experts with hands-on experience of operational implementation working with leading corporates around the world, is an excellent fit with several of our key initiatives such as Fin5Labs, and others related to procurement, talent and transformation."