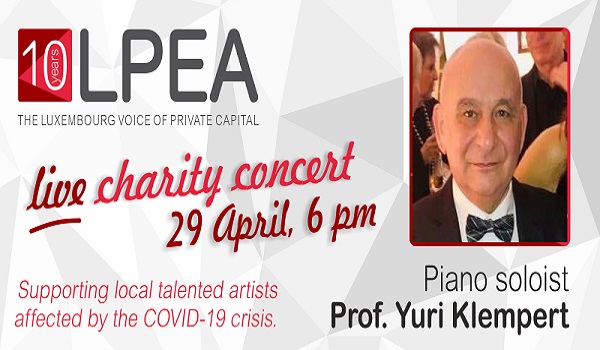 The Luxembourg Private Equity & Venture Capital Association (LPEA) has announced an online concert of Professor Yuri Klempert, who will perform musical pieces by Tchaikovsky, Rachmaninoff, Chopin and Liszt this Wednesday 29 April 2020 from 18:00.
LPEA is launching a new charity initiative to help self-employed professionals and artists in Luxembourg, who are affected by the COVID-19 (coronavirus) crisis. Having lost the opportunity to perform in public or teach students, these people were left without any income. This initiative thus represents a way in which the local community can help these professionals to survive this challenging time.
Programme:
- Frederic Chopin: "Fantaisie-Impromptue"
- Pyotr Ilyich Tchaikovsky: "The seasons"
March: Song of the Lark
April: Snowdrop
- Sergei Vasilyevich Rachmaninoff: "Six moments musicaux"
Allegretto, E minor
- Franz Liszt: "Hungarian Rhapsodies"
Hungarian Rhapsody No. 2 in C-sharp minor
Professor Yuri Klempert is a representative of the classical Russian Music School and a graduate of the Conservatory of Music of Yekateringburg (Russia) where he obtained the Soloist Diploma. After many years of performing in Saint Petersburg, he settled down in Luxembourg and has been teaching piano and giving recitals on various occasions.
Professor Klempert will perform in a private setting with a folding screen in the background painted by local artist Marie-Isabelle Callier. The concert will be broadcast via Zoom.
All money gathered from this concert will be transferred to Professor Klempert without any extracted fees. Donations should be sent to the LPEA charity account: LU 1200 1957 5505 2240 00 / BCEE (BCEELULL) with the reference "LPEA COVID-19 INITIATIVE FOR LOCAL ARTISTS".
For further information, visit https://www.lpea.lu/2020/04/21/live-concert-with-prof-yuri-klempert/. To register, see https://zoom.us/webinar/register/WN_EqpvXm8jRFeaRSMN6yDrJw.